I've fallen way too far behind on my little summaries of things I have read, so I'm switching methodologies. Instead of posting something for each book, I'll do annual summaries. The last individual book I did was Envisioning Information which I read in February 2011, so I'll start with 2011. I'll do the whole year, even though it means backtracking a little bit.
Here goes, the books I finished in 2011:
And that was it for 2011. The book I started on October 31st wasn't finished before the end of the year.
When I did the individual reviews, I had also been including charts for how many of the last 20 books I reviewed were available on Kindle, and how many of the last 20 books I have read I have read on Kindle. Using this new model, obviously the first is no longer really viable, so even though that ratio hadn't yet reached the 90% at which I'd said I would stop, I will stop anyway.
I can still do the chart of what percentage of the last 20 books read have been read on Kindle. As of today (so including books finished not just in 2011, but also 2012, 2013 and so far in 2014) and starting from the day I first got a Kindle, it looks like this: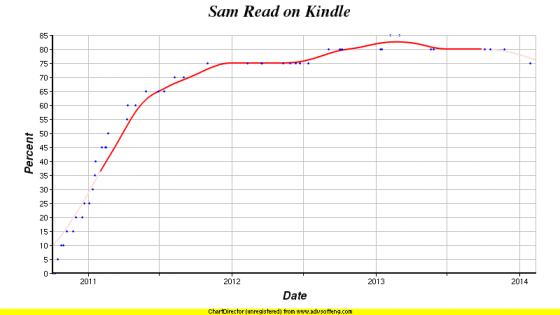 As you can see, this percentage peaked at 85% in early 2013 and has actually declined back down to 75% at the moment. 5 of the last 20 books I have read have been physical books. I find at this point that when I hit a physical book my reading slows down considerably, just because of the extra burden of having to carry the thing around. I am sure this percentage will go back up again, but as long as I keep occasionally reading physical books that have been gifted to me (or I occasionally choose a physical book I have owned for years) it will be hard for this to get up to 100%. For that to happen I would need to not just avoid buying new physical books (I already do that) but actually reject the possibility of physical books when they do come up. I'm not quite ready to do that.
In the future, I may separate out these Kindle Ratio graphs from any reviews I do. Or I may not post any more updates of the graph. Depends what I feel like later. :-)
Not sure when I'll do the 2012 books. Someday.