This week on the Curmudgeon's Corner podcast Sam discusses his fever addled trip home from last week's vacation, then Sam and Ivan settle in to discuss Election 2016, first the Democrats, then the Republicans. We cover everything from Larry Lessig and Al Gore, to Clinton emails, Bush on Iraq, birthright citizenship and what happens if Trump actually wins.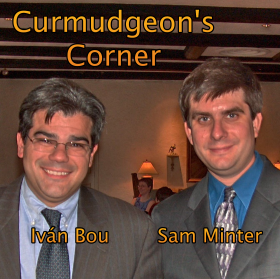 Recorded 2015-08-21
Length this week – 1:30:58

1-Click Subscribe in iTunes


View Podcast in iTunes


View Raw Podcast Feed


Download MP3 File


Follow the podcast on Facebook
Show Details:
0:00:10 – 0:24:53: But First

Some Walking
Positive Buzz
Sick Traveler

0:25:55 – 0:54:40: Election 2016 – Democrats

Larry Lessig PR Stunt
Al Gore trial balloon
Clinton drops below 50%!
Will Joe Biden run?
Clinton email again

0:55:25 – 1:30:39: Election 2016- Republicans

Paul Staffer Legal Trouble
Bush Foreign Policy Speech
Birthright citizenship / Immigration
Trump driving away potential Republican voters?
Trump vs Klum
Other Republicans sucking up to Trump?
Trump Base Expanding?
Scenarios where Trump wins the nomination
Bush money drying up?