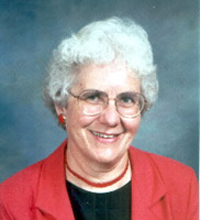 Speaking of acheivements in the family… also about a month ago, something else was announced:
2005 Antoinette Brown Award recipients named
The Antoinette Brown Selection Committee today named Ruth M. Brandon and Barbara Brown Zikmund as the 2005 recipients of the Antoinette Brown Award. This honor is awarded to two distinguished clergywomen at the biennium gathering of the United Church of Christ's General Synod.

Ruth M Brandon, originally from Vermont, is a graduate of Oberlin College (1963) and Union Theological Seminary – NYC (MDiv 1966) and Christian Theological Seminary – Indianapolis (STM 1983). Ordained in the UCC for 32 years, she is Pastor of United Church of Christ, Second Congregational, in Westfield, Massachusetts; is vice moderator of the national Wider Church Ministries Board and active in the Massachusetts Conference. Ruth's ministry has included campus ministry, missionary work and settling refugees for Church World Service. She has participated in the struggle for peace and justice from Mozambique to Nicaragua and in this country's peace, anti-apartheid, civil rights and women's rights movements. As a missionary Ruth served as a teacher with Mozambicans during the war of independence and later taught Ethics at the Ricatla United Seminary. At the seminary, she organized the first conference for Mozambican women pastors and seminarians. Ruth served on two UCC conference staffs and directed a Campus YWCA which also served as a Women's Center and related to many justice activities.
The award is apperantly a pretty big deal in my mom's denomination. The actual reward will be given out July 2nd in Atlanta at the UCC General Synod. I have agreed to go to the event and introduce my mom when she gets the award. I have to come up with a 2 to 3 minute introductory statement. I have no idea what I will say yet. But I am sure I will come up with something. I was very honored that I was asked to do the intro… I wouldn't miss it.
Congratulations Mom!