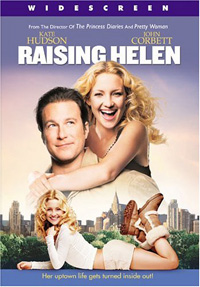 Friday after work, Brandy was going out partying with people from her work, so I suggested to Amy that we have one of our movie nights at home which we haven't had for awhile. So we ordered Chinese and watched her current Netflix movie. It was Raising Helen.
That's the one where the New York Sex in the City Style woman's sister dies, and suddenly she has three kids. You get the struggles as she adapots to suddenly having kids. She has to give up tons. Her life changes completely. The kids are in mourning and the oldest one rebels.
OK, I'll admit something. At this point I saw this DVD almost two days ago. I meant to write the little web review thing right away, and had a number of things I intended to say. But things kept coming up and it is now two days later, and I mostly forget now. And I guess that says a bunch.
It was a decent little movie. Pulled some emotional strings at the right moments. At the end things end up like you think they would. I did not like the woman playing the older surviving sister. I didn't mind the couple of hours I spent. It was fun and I got to hang out with Amy. But it wouldn't be on a list of movies I must own or watch again…