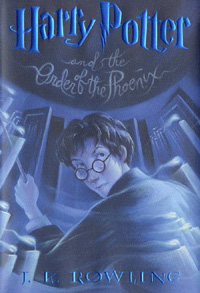 Author: J. K. Rowling
Started: 22 Nov 2005
Finished: 4 Dec 2005
870p / 13d
67 p/d
I started reading Book 5 a couple of weeks before we got to see the movie of Book 4. By the time we got out of the movie I only had 150 pages left or some such. So, silly me, what did I do? I stayed up all night finishing it. Only had about an hours sleep before I had to get up to go to work. But you get to that sort of point in that kind of book, and you just can't stop, it would be wrong!
Anyway, I can't actually remember the last Harry Potter book before this (as mentioned when I talked about its movie) but I enjoyed this one. You can tell by my average rate of 67 pages a day. That is a lot for me! That is partially because it is the kind of book that makes you want to pick it up and read it rather than watching some TV or doing something else. And of course it is partially because it is relatively lareg print at probably a 5th grade reading level or so. Not all that many dense hard to understand sentences that you have to go back and read several times to get the point. Like the Jefferson Davis book. :-)
Anyway, if you like any of the HP books, you will of course like this one. They get a bit darker and more serious as they go on, and the transition as the kids get older seems to be done pretty well.
Well, I have to run to lunch. Meeting Brandy and joining Amy for lunch at the school. But not eating the school lunches ourselves. That would be crazy!