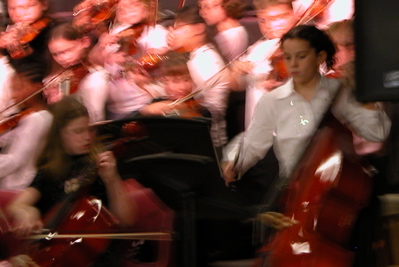 I've been meaning to do this for a long time, but other things came up and I didn't get to it. Just want to do a little of the "our girl is so great" thing for a moment.
First lets start with the stuff at the school. Way back a month or so after Amy started at the new school Amy was having a few adjustment issues to the new place, and we were having problems with one of the teachers in particular. In the end we got most of the things worked out, but one of the results is that they wanted to do some tests on Amy cause she wasn't doing as good in school as expected. We were trying to explain the reasons why, but they were not listening.
Anyway, in November the test results came back. They did not find any of the learning disabilities or problems they were looking for and thinking might be the issue. Instead, they found what we knew… a Mensa level IQ and indications that the problem was simply that she was bored and not being challenged enough. So, a couple more follow up tests later, she got admitted into what they call "GSP" which is the special class for gifted kids. She started the next week.
And she has of course been absoutely thriving. It is only one day a week, but the change was immediately noticible. She is excited about it and engaged, and it carries over to all her other schoolwork too. She does her homework on her own in aftercare before she even gets home rather than it being a fight in the evenings to get it done. Etc. In addition to what actually happens in the class there is also just the effect of knowing she is in that group. It makes a big difference.
Although we did not get to do so literally, we at least figuratively got to shove the GSP thing in the face of the teacher who said "You think she is smart? We can't see that. She needs to PROVE IT." OK. Here ya go. Take her out of your class once a week and put her into a class that actually knows how to deal with smart kids and challenge them and interest them, and see what happens…
Anyway, we were proud of Amy for doing the battery of tests and coming out on top, and even prouder at how she has been doing since she started the new classes.
And in addition, the music continues to go well. She's been preforming with the Brevard Children's Chorus. And continuing taking lessons on her double bass, as well as piano lessions and guitar lessons. She's all about the music. She got to solo on the bass in her school orchestra's performance a couple weeks ago. All in all, doing very well with all three.
Anyway, she has been doing great.
Now, if we can just get her to clean her room…