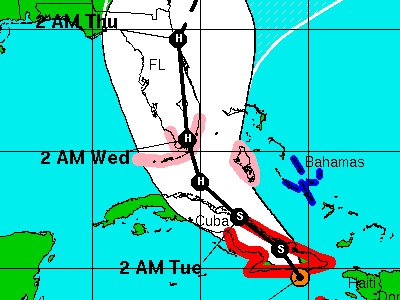 I prefer the probability view, but it gets updated less frequently. The 9 UTC NHC Cone update just happened though (a little early), and we're just to the right of the center line. Now, it will have been traveling over land for awhile by then, but it is still an H, not an S, and even a minimal H is not to be sneezed at.
Now, reading the predictions, there is a good chance that it will weaken significantly over Cuba and may end up not being much of anything by the time it gets to Florida… or it may strengthen significantly and actually be a real threat.
Crossing our fingers that either Cuba gives this storm a knockout blow while it goes over and it never gets back up to Hurricane strength, or the track keeps moving east and it ends up missing Florida entirely.
Of course, with the current track my friend Ivan in the Miami area is right on the target line too. So good luck to Ivan too!
Ivan, what's the report from Miami? Does anybody care about this one at all, or does everybody assume it will be a non-event?