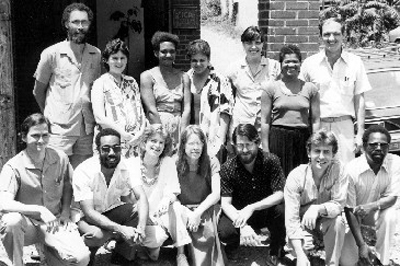 An interesting article, actually an excerpt from No Easy Victories, the book coedited by my father which will be out in October, was recently published on AllAfrica.com as well.
AllAfrica.com evolved out of what was the Africa News Service, which both of my parents were heavily involved in during my early childhood. I have a few memories of being in and around the Africa News offices from around ages 5 to 9. And perhaps a few after that, as didn't leave the area for good until around age 12. But mainly those earlier years. The article gives a brief history of the organization from its roots in 1969 up to the AllAfrica of today. Interesting stuff.
Africa: Durham, Durban, and AllAfrica
(Reed Kramer, allafrica.com)
Around 1976, we started producing for broadcast through direct telephone feeds rather than printed news scripts. We immediately heard from our nonmedia subscribers – church agencies, libraries,government offices, anti-apartheid groups – who said, " Wait, we still want this news." That's when we started a print publication, which became a biweekly newspaper. We continued to produce, edit, and consult for radio and television. We still report occasionally for public radio or appear on CNN and other networks.

The newspaper continued until 1993, when issues of sustainability forced us to move more aggressively to become an online service. We had begun electronic publishing in late 1983 on the NewsNet bulletin board, almost a decade before the emergence of the World Wide Web, and in 1991 on LexisNexis. Around 1993 we were approached by the newly formed America Online (AOL) and had extensive discussions. They wanted us to create a closed channel for them, but in the end we thought it better to be on the open Internet. So we launched a Web site instead.
The complete book is available from http://www.noeasyvictories.org and http://www.africaworldpressbooks.com.