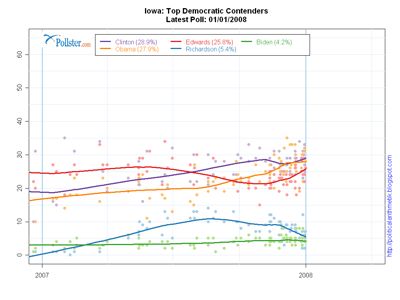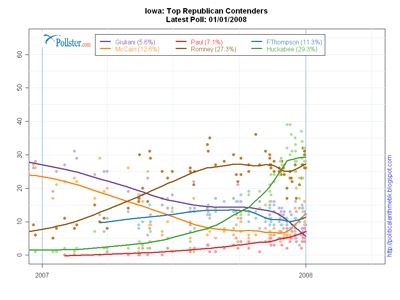 Too close to call in both parties with less than 24 hours until the first results start coming out of Iowa. This is so very exciting. I'll be rushing home from work as soon as my last meeting ends to spend the entire evening watching news coverage. This stuff is great!
Things to watch for besides the obvious "Who wins?":
Do the top three Dems essentially tie like current polls show, with one squeaking out a narrow victory? Or does someone manage to get enough of those "second choice" votes from the lower tier candidates to get a clear win?
Who gets third place on the Republican side?
In any case, the results of this will define the shape of the race… for at least the next few DAYS until New Hampshire, at which time it may completely change again.
This is great. Here's hoping for a long primary season where the ultimate nominee isn't known for as long as possible and every state is a close race in both parties! :-)