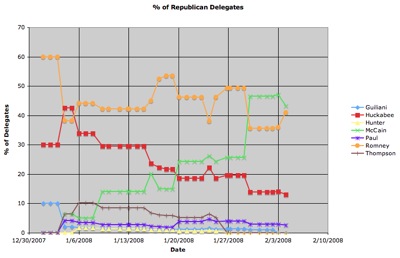 As expected, Romney gets the delegates from Maine. If you look at the charts, this means that as of today the delegate race is very very close. Romney and McCain are neck and neck.
But then you look at the Super Tuesday Polls and you realize that Romney is way behind in most of those states. Romney does seem to have some positive momentum in a few states. But it looks to be too little too late. If there were lots of proportional states like on the Democratic side, one might say that he was close in a lot of states and it might be very competitive still after Tuesday. But most of these states are winner takes all.
Given that, this may well be effectively over on the Republican side after Tuesday.
Absent a Mittmiracle. :-)