OK, below are the charts I did last night updating the delegate percentages every half hour as results came in. This covers 0:00 UTC to 12:00 UTC. This is basically the first 12 hours after polls closed, not counting West Virginia's Convention. After that, I started to let myself drift off to sleep. I am still annoyed at myself for not having done readings at 0:00 UTC, 0:30 UTC and 1:00 UTC. Oh well.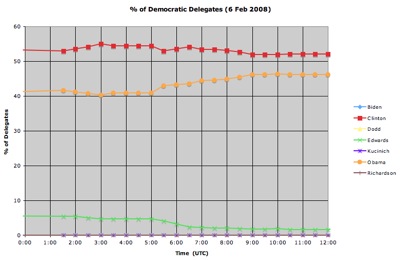 On the Democratic side the story is simple. The more results came in, and the more delegates were allocated, the more Obama closed the gap with Clinton. The two candidates are a lot closer together now than they were yesterday. But Clinton ended up still ahead.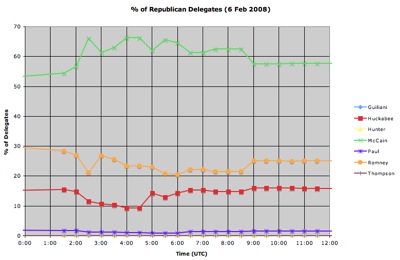 On the Republican side, there were more dramatic ups and downs. But basically McCain jumped out to a huge lead. It was slowly eroded over the course of the evening, but at the end was still a huge lead. Huckabee moved up, Romney moved down. But both are very far behind McCain.