Just some minor delegate adjustments. Obama picks up 9 delegates somewhere or other. Clinton picks up 2. I haven't been tracking things in such a way that it is easy for me to tell where these new delegates come from. I am guessing these are new superdelegate endorsements, plus probably the one additional delegate Clinton would have gotten from winning New Mexico.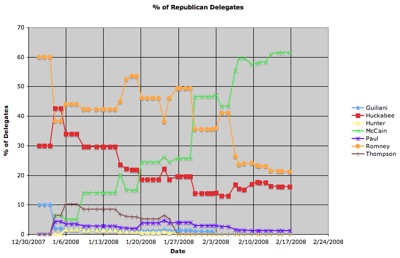 On the Republican side, McCain got 3 more delegates from somewhere, a minor change.
Now, you may be asking… Didn't Romney endorse McCain and "give" his delegates to McCain on Thursday? Well, he did endorse. He did encourage his delegates to vote for McCain. But fundamentally, in the end, these delegates are real people with free will, his statements don't actually alutomatically change the votes for any of them. So how will this play out? Well, in many states, the final delegates aren't actually selected yet, they have only actually done the first stages in the process. In those cases, how things work out in the end depends on the exact process each state has… which tends to be different in each state. In other cases, you actually have an actual human Romney delegate and they are now free to do what they want. They could still vote for Romney. They could vote for McCain. They could vote for Huckabee. Or even for someone who isn't even running.
With all this mess I think what CNN should probably really do is recast all of the Romney delegates as uncommitted… in other words delegates for which we don't know a preference yet… and then start researching the specifics of each and every delegate to be allocated and then start producing those results… but given that McCain probably has this wrapped up anyway… and that by the time we get to the convention it probably just won't matter, even if they don't just get all the delegates to flip and vote for McCain unanimously… they might not actually do this. I suspect they would if it looked like it might actually matter.
The approach CNN has actually taken… at least so far… is to just keep the Romney delegates as Romney delegates. They may still change that in the future. If so, of course I'll make note of it.