CNN today provides yet more delegate updates. Somebody there must be spending some time on this!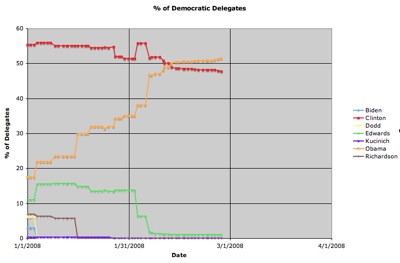 There is a net gain of 4 new delegates today. Luckily, yesterday I printed the CNN page, so I can actually say exactly what this was. It was all superdelegates. Obama gained five new superdelegates. Clinton lost one. Presumably that would be John Lewis switching over to Obama. Net increase in the gap between the two candidates of 6 delegates. Clinton just keeps falling further behind.
We're now at Obama 51.3%, Clinton 47.7%, Edwards 1.0%.
Obama needs 660 more to win, Clinton needs 757 more.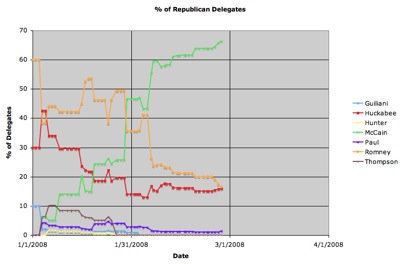 OK, I screwed up. I only printed out the Democrats figuring if there were changes, it was more likely on that side. But NO, there were major changes on the Republican side today. And since I didn't print yesterday's chart, I can't go identify where the changes came from. I suspect the same things I did yesterday. Romney delegates being redistributed and final results from second stage caucuses and the like. But I can't actually tell because I don't have yesterday's chart. Damn it. Well, I printed today's chart, but now just watch, nothing will change.
In any case we have a net gain of 44 new delegates listed. Romney LOST seven delegates. Paul gained five delegates, bringing his total to 21 delegates. This is the first addition of delegates Paul has had since February 6th. Huckabee gains eight more delegates, and McCain picks up a full 38.
This leaves us at: McCain 66.4%, Romney 16.4%, Huckabee 15.9%, Paul 1.4%
Huckabee is very very close to overtaking Romney. He must be thrilled.
McCain needs 159 more delegates to reach the magic number of 1191 and have a majority of the delegates and therefore wrap up the nomination. (Absent of course any completely unexpected development that would cause officially committed delegates to change their minds.)