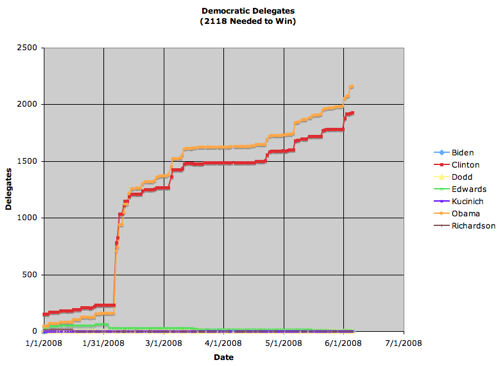 The final four delegates for Montana and South Dakota are now determined. Clinton got three of them, Obama got one. That brings the final results to Clinton 16, Obama 15. I had expected Clinton 14, Obama 17 based on the polls. So Clinton out-performed expectations one final time. Of course, it didn't matter.
In today's update Obama also picks up one more superdelegate (a bit late there dude).
Total for today, Clinton 3, Obama 2.
I expect at this point CNN will get less aggressive about making sure their totals are up to date and correct as additional superdelegates endorse, and as some existing delegates start shifting to Obama. When they do give updates, if they give updates, I will continue to post them. There are still quite a few delegates unaccounted for on both the Republican and Democratic sides. I hope they continue to track until everything is fully settled, and strive to have numbers as we approach the convention that approximate the actual final roll call vote, but I'm not sure they will bother.
Oh well.