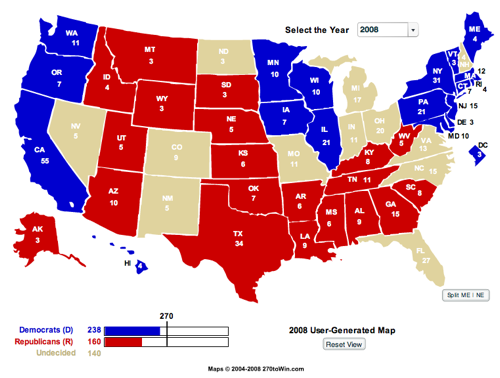 In terms of state by state polls, this is a very bad day for John McCain.
First of all, Wisconsin strengthens for Obama. Obama's lead is now more than 5%, taking Wisconsin out of the swing state category. McCain may still be able to bring these 10 electoral votes back into play, but it would take work.
Second, and a bigger deal, Florida weakens for McCain. His lead there is now under 5%. That is 27 more electoral votes off the list McCain can feel pretty good about and into the "fully in play" category.
Current Summary:
McCain Best Case – McCain 303, Obama 235
Obama Best Case – Obama 378, McCain 160
And if everybody gets their leans (and Obama gets DC) – Obama 272, McCain 266
The "everybody gets their leans" numbers still remain incredibly close. But the best case scenarios are getting more and more unbalanced. Obama's best case is now getting into landslide territory. McCain's best case is just barely more than squeaking out a victory by a margin of a couple of states.
There are 140 electoral votes now in the "leaning" category that can easily go either way.
Assuming Obama gets all his strong and weak states and DC, that gives him 238 electoral votes. Which is 32 electoral votes from the win. That is only 23% of the electoral votes in the swing category. He only needs any two of Florida, Ohio, Michigan or North Carolina in order to do that. Two out of 12 swing states. (Or instead he could get a bunch of the smaller states…).
By contrast, if McCain gets all his strong and weak states, he only has 160 electoral votes. He needs a full 110 electoral votes from the swing states to win. That is 79% of the swing state electoral votes. From the big state side of things that means McCain would need all of these: Florida, Ohio, Michigan, North Carolina, Virginia, Indiana and Missouri. Eight of the 12 swing states.
A lot of Obama's gains in the last few weeks can be attributed to a "bounce" from clinching the nomination. If the trend continues, and McCain doesn't manage to fight back a bit, and Obama manages to flip a few more states in his direction and out of the swing state category… we might actually end up with McCain's best case scenario being a loss…
…or Obama may start to peak and then things get closer again.
It is still early. Anything can happen. But the recent poll results are ones that the McCain camp should be very worried about. They have some work to do.