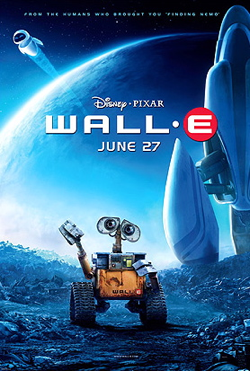 In the couple of days right before we sent Amy off to Canada I started getting a more and more intense desire to go see Wall-E. I don't know why exactly. I'd seen things about it for years of course, but had not gotten too horribly excited. But in the last few days, I kept asking Brandy, "Can we go see Wall-E?". Eventually on the night before Amy left on her trip, her last rehersal ended with enough time left over for us to catch the next to last showing at the nearby movie place. So we got our tickets, we got our popcorn, and in we went.
Bottom line here, If you've read any other reviews of this movie, I'm not going to say anything new here. I'm going to agree with all of them. This was a great movie. Looking quickly at my list of movies I've seen at the theater in the last few years, it is easily the best of all of them since I have been keeping track. That might be true of the DVD list too.
Now, those of you who pay attention know the kind of movie I like… emotional, cute, a little humor, a little different… this completely does all of those and does it well.
The first half hour is wordless. Just getting to know Wall-E and his world. It is great. The use of Hello Dolly!… Great. Oh, I dunno. This is just the kind of movie that hits pretty much all of my buttons directly. I'm sure it is not for everybody. Some people hate things that are a little sappy… and yes, predictable… I don't think there is ever even one second of doubt about how the movie will end… and there are some folks who have been mad that in some ways it looks like a bit of environmentalist propaganda… but whatever. It made me cry and laugh and had me in rapt attention from the first few seconds to the last seconds of the credits when there was a dedication to a member of the production team who passed away.
This is an awesome movie. Regardless of the presence or absence of children in your life (the theoretical primary audience for a "family" movie of this sort) if you didn't see it yet, make room on this holiday weekend to go see it. Really. Go see it. Now.