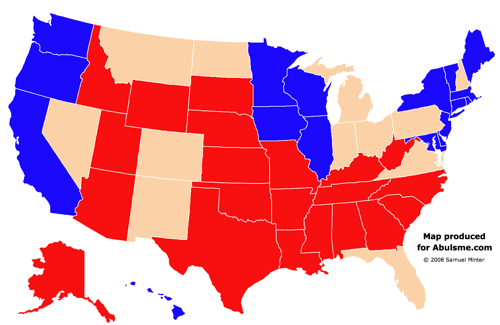 Only one state of bad news for Obama today, which compared to recent days is actually a good day.
Missouri (11 ev): Another state that has been red the last couple of elections that Obama had hoped to flip. At times it has looked like that might be possible. But as with the other states recently, it appears that McCain is consolidating his position. Today McCain's lead moves to over 5%, which changes this state from "Lean McCain" to "Weak McCain". Which means Missouri can no longer be considered a possible swing state.
New Summary:
McCain Best Case – McCain 324, Obama 214
Obama Best Case – Obama 355, McCain 183
If everybody gets their leans (and Obama gets DC) – Obama 273, McCain 265
The two best cases are more balanced than they have been since early June. At this moment in time, the race really is looking very even.
Bring on the debates! :-)