This week on Curmudgeon's Corner Sam and Ivan's big topics are Brexit and Election 2016. In addition though, they talk about Low Battery Mode, the Yelchin accident, SCOTUS, and even a bit about Ivan's latest Uber driver and a connection to a class Sam and Ivan took in college.
Click below to listen or subscribe… then let us know your own thoughts!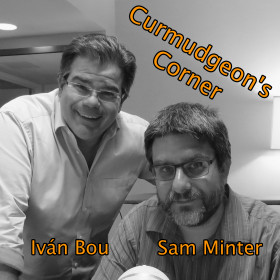 Recorded 2016-06-29
Length this week – 2:01:53

1-Click Subscribe in iTunes


View Podcast in iTunes


View Raw Podcast Feed


Download MP3 File


Follow the podcast on Facebook
Show Details:
(0:00:10-0:13:20) But First
(0:13:59-0:27:26) Yelchin accident
(0:28:29-0:58:17) Brexit
(0:59:20-1:47:04) Election 2016
(1:48:22-2:01:33) SCOTUS
Note: Timestamps are accurate, but many audio players are not very precise on the timestamps they show, especially when scanning forwards and backwards, so depending on your player, if you scan to a specific time, you may not get exactly what is shown above and may have to scan back or forward a bit to get what is expected.