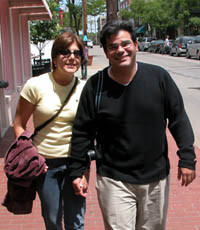 Sunday morning I flew to Pittsburgh for my friend Kathy's wedding. But before the wedding, I met Ivan for lunch. And he brought with him his wife Juana. As far as I know, none of us old college friends had ever actually MET Juana. I could be wrong of course, I don't talk to everybody as much as I used to. But we knew they had been dating off and on and heard the name. Occasionally there was a rare picture. Then a little while ago, we suddenly got word that they were doing a quickie wedding that weekend. And then that was done.
Well, I actually met both of them at lunch in Pittsburgh. And she seems real enough. Of course, in the initial conversation, Ivan asked some questions about what had been going on with me, my job, and other such things, and being me, I just blabbered on for most of lunch, not hearing much from Ivan, and even less from Juana. My bad. I'm sorry.
Did hear more from both of them later in the evening though. Everybody seems to be fine. Ivan is pretty much his old self. And him and I seem to have mostly put the little nastiness we had between us a few years ago to bed, which is good. :-) It was good to hang out with them.
Oh, and word is they will eventually actually have a ceremony where they invite everybody and all. It is looking like early 2006 at this time.