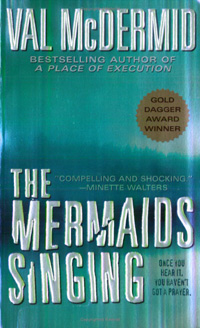 Author: Val McDermid
Started: 14 Jun 2005
Finished: 25 Jun 2005
379p / 12d
32 p/d
Last year some time Brandy's wishlist on the Tivo for "ancient", which normally gets documentaries on ancient Rome and Egypt and such, got an episode of a series on BBC America called Wire in the Blood. It was a serial killer / murder mystery type thing. This episode happened to have a portion of it set in some ancient ruins. (As it turned out, it was the second episode of the second series.) We watched it. I liked it. Brandy loved it. She got hooked. Before long, we'd gotten caught up watching all the episodes. While waiting for the third series, at some point I discovered that the TV series was based on a series of novels. So I got Brandy all the novels. She devoured them in a matter of days.
Now, many months later, I decided to read the first of those novels. (Normally it would have gone to the end of my multi-year book pile, but not all of that pile has been found and unpacked, and I needed a fiction book.)
Anyway… I think this is the first book I have actually ever read in the mystery genre. I don't know why, I've never felt any inclination to try that genre, and have actually felt a bit of an aversion for it.
I did like it though. The books have a bit of a different tone that the TV show… a bit darker and more explicit. But the TV show gets the tone of the relationships between the main characters right. It does get pretty graphic with some of the sexual violence that happens to the victims. (All men in this case.) More graphic than I probably needed, although I understand how having it in there contributes directly to the impact of what was going on. Without the detail, it would lose some of the punch.
But still. Ick! Did I really need to learn about pears? No, I probably would have been quite content to go through my entire life without reading about those. (Just one of many torture devices discussed and used in the book.)
Having said all that, I did enjoy the book, it kept me turning pages. 32 pages per day indicates it caught my attention enough so I would grab the book and read whenever I had a few moments, rather than forcing myself to read a bit every once in awhile or whatever.
I like the TV show. The book was different but still compelling. I'll probably read some of the others.
Brandy says that for me to keep the book after I borrow it and read it, so it can go into my shelf of read books perminantly, I have to get her a new copy, but hardcover. Some of the hardcover versions are out of print. But I'll get them if that is what it takes! The book must be on my shelf!! With a little library card in it! In order by when I read it!