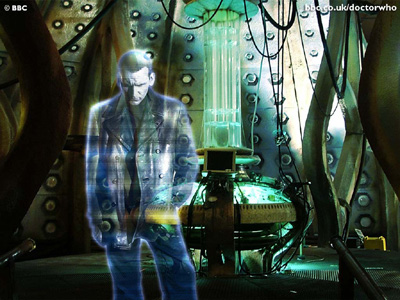 They refused to play it on any US TV network, but of course there are other ways to see such things. Since the new Series of Doctor Who started on March 26th in the UK, we've been watching it together as a family every Saturday night, exactly one week after it aired in the UK. (OK, usually a week plus a few hours to be exact.)
Both Brandy and I had watched the show when we were younger. And Amy was hooked with the very first episode of this new series. It is after all designed to be one of those shows that is aimed at kids first, but with lots of stuff thrown in for the adults so they can watch and like it too. For the last 13 weeks, it has been one of the few constant things that we know EVERY week we sit down and do together. It has been a lot of fun. We watched the last episode of the new series last weekend.
I was worried about this return of the Doctor. It might have been like the Doctor Who TV movie from 1996. Passible. A few good things about it. But missing a lot of the flavor that was appealing about the show in the earlier years. Basically they tried to Americanize it a bit, and in the process just made it not quite right. But no, they did it right. This new one updates the old series in some good ways, but retains all the right stuff that made the show fun to begin with. Yes, I could nitpick about certain things here and there. But almost without exception I had FUN watching the episodes and enjoyed them. So it succeeded.
There have now been 173 Doctor Who stories made for television (of different lengths both in time and episodes.) That is spread between 9 doctors and over a 42 year timespan. Wow. Even taking into account no new TV stories from 1990 to 1995 and again from 1997 to 2004, that is a long time for a TV show. It of course beats that lame old Star Trek thing. :-)
Anyway, the BBC sucks, and has only released a small portion of those 173 stories on DVD so far. (Unfortunately, of the 173 stories, 27 do not exist intact any longer since the BBC destroyed a bunch of "worthless old stuff" in the late sixties and early 70s. Damn them!) Anyway, BBC has only released a small portion, and some of those are only available as European region DVDs. Of the ones available in the US region without a region free DVD player, Netflix has 28 available. 28 out of 173 total (or out of 146 that actually fully exist) is pretty deficient, but hey, it is something.
(The Netflix search I linked to has 33 rather than 28 because it also includes a few disks with bits and pieces of the "lost" stories, and also the 1960s movies with Peter Cushing which everybody agrees don't count.)
So we are continuing the Saturday Doctor Who thing with Netflix. I filled up an extra personality in Netflix with all the Doctor Who they had and put it in order by when the stories aired. (Then the Cushing movies and stuff after everything else). And so off we go, starting with Story #6 "The Aztecs" with the First Doctor which originally aired as four 25 minute episodes from 23 May 1964 to 13 Jun 1964.
I am guessing Amy won't be quite as enthralled by these old episodes. Especially from the first and second Doctor when they were in black and white. And the special effects were of course MUCH WORSE. Just plain bad in most cases! And also the pacing was quite a bit different than the fast paced 45 minute episodes of the new series. So she may well fall asleep. We'll see! They just have a handful of first and second Doctor episodes though, so in a few weeks we'll be in color again.
And that should see us through until Christmas time when the first episode with the 10th doctor will be airing in the UK. I am a bit wary, as it is a "Christmas Special" and the producers have said there will be reindeer and everything. That just does not seem like Doctor Who to me, and they better not screw it up! Especially since it will be the first full episode for a new Doctor! (He got a few seconds in the last episode of this series.)
Anyway, it has been fun revisiting my childhood (well, my late pre-teen and early teen years) by watching this for the last 13 weeks. And having Brandy and especially Amy into it as well has been great.
Looking forward to the 10th Doctor in a few months! In the mean time though, bring on the old black and white episodes from the 60s!