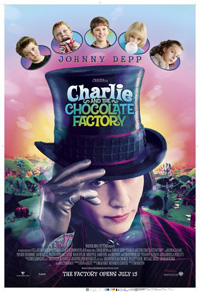 Oh. My. God. I absolutely loved this. I didn't think I would. And it started out a little slow, but just kept building. How can you not like a move with trained squirrels?? The colors were all bright. Johnny Depp was increadibly creepy as his Michael Jackson wannabe Willy Wonka. And the Oompa Loompas were just funny.
OK, now some of this probably wont' age well or survive multiple viewings. And you probably have to be in the correct state of mind. Now, Brandy said the correct state of mind for this movie is essentially "altered", preferably "highly altered". Or something like that. But since I pretty much always am a bit off, I was in the perfect state of mind. Especially after several days of not enough sleep as I went on my little adventures last week. I was probably on about half the amount of sleep I should have had when I saw the movie.
I am sure that helped.
But I was laughing pretty much straight through, and so was Brandy. Amy was too, but I suspect she was laughing at different things.
There is not one moment of this film that can be taken seriously. There is no super thrilling plot. No suspense. No real character development. No sense that you really CARE what happens to any of the characters. No mystery. None of the things that normally make one really get into a movie. But it is just FUN. If you try to think about it too much, it won't be fun. But if you just let yourself, it is an enjoyable journey. As Brandy told me, a somewhat disturbing enjoyable journey, but hey, aren't the most enjoyable ones always that way?