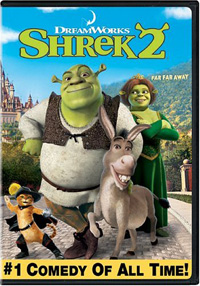 Saturday morning UTC (what other folks around here would call Friday night) Amy wanted to have one of her movie nights. Since the movies both Brandy and I have from Netflix right now are not 9 year old friendly, we agreed. But the DVD Amy has from Netflix right now (some Punk'd episodes she has cause one of them has Hilary Duff) is one she decided she did not want to watch right then. So she picked one from the ones we already had. Shrek 2. I'd seen it in the theater, and Amy had bought the DVD long ago, but I hadn't actually watched the DVD yet. So we did.
I think I still had more fun with the first Shrek, but the second Shrek was good too. It was just cute. Nice cat. Nice donkey. A few ogres. Brandy fell asleep. My mom had not seen it before. It is fun trying to catch all the references in it to various other things. Some are obvious, some you have to look for.
Anyway, I wouldn't call Shrek 2 a masterpiece or anything. I probably would not be choosing it myself for a second or third or fourth viewing. One was just fine. But if someone else, like the resident 9 year old, chooses it, I certainly have no objections. It is fun, and a good way to kill a couple of hours.