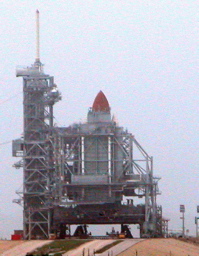 This weekend, one of the things we did since my mom was in town was go and do the whole Kennedy Space Center tour thing. It was fun. I wish we actually could have spent a bit more time. That was my fault of course, for not being ready to leave the house Saturday until after noon. I could have spent more time at some of the exhibits and such, and we didn't see everything. Of course I liked the exibits of actual artifacts and such with the little explainations to read and such. Amy on the other hand liked "Mad Mission to Mars". Some sort of odd floor show with a robot you watched with 3D goggles. That was an hour of my time that will not come back. But the kids in the audience all loved it, which was of course the point.
Anyway, this brings us to my friend Matt and what is his fault. The Shuttle Discovery (seen here as it appeared the closest we got on the tour) is due to launch tomorrow at 19:51 UTC. But Matt scheduled a meeting in Connecticut for Thursday morning. Which means that at 19:51 UTC tomorrow, I'll be on my way to Orlando to catch a plane to Connecticut. Actually, if I'm on time, I should just be parking at the airport about then. If I was at home, or even at work, I could just step outside and have a pretty good view. (Not as good a view as driving up to the space center, but still…) While there is a chance I might if I'm lucky happen to be someplace where I can see something, most likely not.
Thus, unless there are a couple days worth of weather or other delays, I am going to miss my first shuttle launch since I moved down here. Boo! Hissss! This is all your fault Matt!
(Just kidding Matt, business is business… I understand. Sniff! And of course, unless something happens to this one, there should be a next one a few months down the line, and I'll see that one. And perhaps we'll go somewhere that we can see it fly over while heading for a landing next week… of course, that is scheduled for the middle of the day on a Monday, so maybe not.)
Current STS-114 status can of course be seen at Spaceflight Now updated in pretty much real time as things happen.