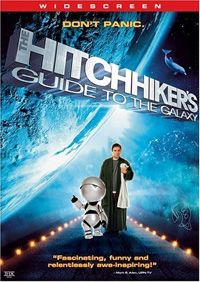 I am getting really bad about doing these things in a timely fashion. It has been at least a couple weeks, maybe longer since we watched this. It was a birthday present, but we didn't watch it for around a week after my birthday. Where does that put it? Anyway, too long ago. I actually have another DVD and one theater movie to report on to catch up. But I won't do them all in a row.
Anyway, we watched the new Hitchhiker's movie. I'd wanted to see it when it was out, but we never got around to it. It was OK. I laughed. But I can't say I was blown away. H2G2 was a favorite book in my teenage years. This just didn't seem to quite do it justice. It had a bunch of the right parts, but it just didn't seem to come together quite right for me. Brandy and Amy liked it more I think.
One of my problems I think was that I had the image of the old TV series in my head the whole time. This seemed a little less British, and of course a lot more rushed since it was a movie rather than a whole bunch of TV episodes. But the comparison was definately always in my mind.
So much so that the absolute highlight of the whole movie for me was when the Marvin from the TV show made a cameo appearance. He didn't talk, but I was very excited. Cause this was the REAL Marvin!
Having said all that, it was still a good present. Can't go without your guide. Or your towel. Any versions of it.
42!