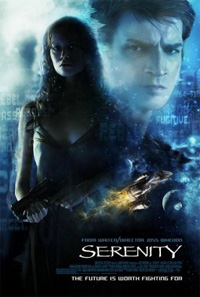 As folks might have guessed from what I said about the Firefly DVD, we went to see Serenity, the Firefly movie. I'm way late posting again, we didn't see this over the weekend that just ended, but rather the weekend before.
In any case, it was awesome. Took everything that was good about the TV series and upped it a notch or two. It tied up some things from the series and threw in a few surprises. I had manger to stay almost spoiler free, and at least one thing really caught me by surprise. In any case, all three of us really enjoyed it.
The theater we saw it in, at the time we say it, was actually pretty crouded. But apperantly that was not average. The word was that if this grossed $80 million at the box office, there would be sequels. Things do not look good. As of it's third weekend, it dropped off the top 10 down to 12 and had only made $22.1 million. The number of theaters it is in is dropping rapidly. So if you want to see it, you'd better go NOW! Or you'll have to wait for the DVD in a couple months.
Anyway, even allowing for international box office and DVD revenue, looks like the chances of a sequel are dim. Which is a shame, cause it is a great series. [By the maker of Buffy and Angel, blah, blah, blah.] But he did get a chance to wrap up a bunch of what was brought up in the series, so if this has to be it, at least there is a feeling that between the TV show and the movie there is a begining, middle and end and you are not left hanging.
But sequels would be nice.
So go see it damn it!
If this guy can buy $2,500 tickets to this movie to help the quest for a sequel, you can all go out to buy three or four, right?