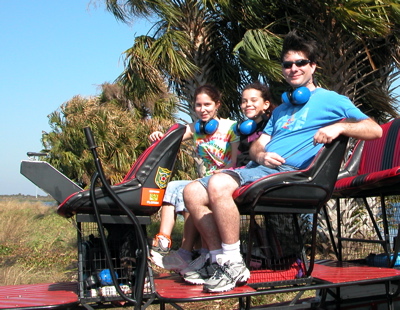 Cynthia was in town visiting from the 2nd to the 5th. She was supposed to arrive on the 1st, but got held up. On the one hand, I was really dissapointed, because it meant a day less of the visit, but on the other hand it let us get a lot further in getting the house in order, and finishing putting tile in the room Cynthia slept in.
Speaking of the tiling, that was another down side to the visit. Brandy had been really looking forward to Cynthia's visit and had taken time off work to spend with the three of us. But it was not to be. Just as the whole tiling and grouting of the guest bedroom was almost completely done, she moved wrong and threw out her back. She was stuck in bed for the entire week. Even now she is not fully back to normal. This has been a longer and worse episode than she has had before. She's arranging with the VA (disabled veteran and all that) to go get a whole new workup done soon to make sure the current state of the damage in her back. Unfortunately, it is a degenerative condition, so it will only get worse. Sigh. We'll check into what the current options are based on the current state of things and any advancement in medical technology since she last had a full workup when they told her there really wasn't much that could be done other than just live with it.
In any case… Cynthia, Amy and I spent a lot of time together doing a wide variety of things. One of those was an airboat ride through some local wetlands. We saw a lot of wildlife. Lots of gators. A bunch of interesting birds too. (Cynthia had a field guide and was circling everything she could identify.) Etc. It was a blast. The last picture and this one were both from that trip. Lets see, what all did we do… A bunch of meals, some out, some cooked at home by AMy with Cynthia's help, we went bowling, we walked the dog a few times, we did the boat trip, there was a movie in there somewhere, and a short walk in a bird sanctuary… we tried to ride bikes but the tires were flat and I could not find the bike pump… and there was of course some just hanging out watching TV and such too. Good time.
Cynthia was very good with Amy too I must say. And Amy really likes and looks up to Cynthia. And Cynthia was very helpful with anything that needed help around the house. It was good to have her visit, and I hope it will not be as long before the next visit.
She's growing up fast that one. Turning 16 in a couple of weeks. Wow.