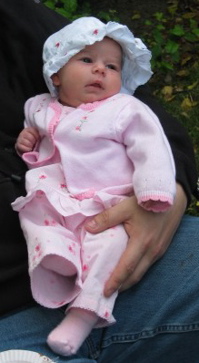 I promised Matt that next time he sent a picture I would post it. His daughter Lily is 8 weeks old now and he just sent me a new picture. And he gave permission in advance, so…
Here she is.
The picture is from May though, so she wasn't 8 weeks old there. But she is now. You know what I mean. Very confusing. In any case, a cute baby girl who is doing great.
She is looking very pink in that picture. :-)
In any case, congratulations again Matt!