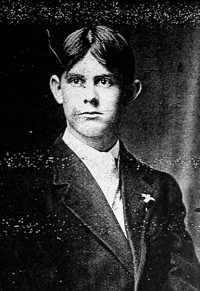 My father's mother's father. Unlike the last couple of ancestors I have posted about, I actually know a decent bit about him both from memories of my Grandmother and from a published obituary.
He was born in Kentucky in 1891. His first job was driving mules in a coal mine. He later worked for a clothing store, then went to college and met his future wife Maude there. He then started up the management chain at various business colleges ending up being a principal owner and manager of Lockyears Business College in Evansville, Indiana. On retirement he was a good friend of Dale Carnegie and was significantly involved in developing and extending some of the courses and methods used by the Dale Carnegie Training courses. He was also involved in a wide variety of volunteer activities. Died in Arizona in 1962.
Basically born poor, died well off, had some adventures in between. Not too bad.
As usual, click on the picture for more.