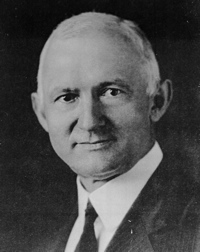 Time for my father's father's father. I have very little biographical information about him at the moment. I know he was born in South Carolina and went to Davidson College there. I know who he married and I know her had four kids (the last of whom was my Grandfather). I have a few pictures and know a few dates. But that is about it. I hope at some point I'll be able to get more information, but I don't have it at the moment.
As I get deeper this of course becomes very common. There are many many of these ancestors for whom all that is really there is date of birth, date of death, and names of spouses and children. Some of them I might be able to find out more about with some more real world research (not just sitting here at my computer doing searches). But for many, that's just all the information that is left. Meanwhile these are all people who lived full lives, had many adventures, successes, failures, loves and losses… but all that is remembered is a few dates.
And then of course, there are some places where I can't find names of parents of some ancestor at all, and then those parents, whoever they were, for them nothing at all is left in terms of knowledge of them. Kinda sad when you think about it.
I think though I probably WILL be able to get more information about William Ramseur. He is recent enough I'm sure there's gotta be more I can dig up. But we shall see. And for now, I have what I have.
As usual, click the picture for more.