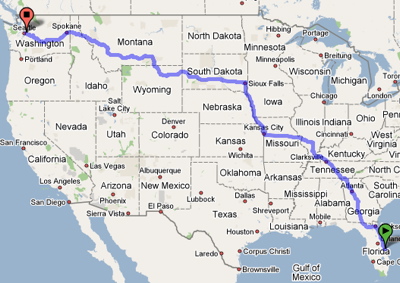 This weekend we set the plans for the final move from Florida to Washington. On 9 Jul I'll fly back to Florida. From 10 Jul to 14 Jul the moving company will pack and load. From 15 Jul to 21 Jul Brandy, Amy, Zuri, Cheese, Skittles, Mike, several fish and I will pack into a car and drive cross country to my apartment here. Our planned route is above courtesy of Google Maps.
We had thought about flying back, but in the end for a variety of reasons decided that driving would be the way to go. This will give me four more states on my State Map. Woo! Um, that wasn't one of the reasons though. :-)
In any case, should be an interesting trip.
And it will let me visit my house one more time before it isn't my house any more.