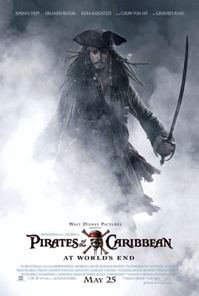 Yesterday I was going to stay home working on things that need to get done, but instead I got talked into going to a movie along with Amy, a friend of Amy's from school and that friend's parents. The choice was the pirate movie.
My initial reaction: Long
It seemed like a very long movie. Looking it up, it was 167 minutes. Which indeed is pretty long. But there are some long movies that leave you glad for every minute. This is not one of those movies. For quite a lot of it I kept thinking "is it over yet?" Some parts just dragged. Some parts were all action and fighting and such, but I also generally have enough of those sorts of things in a couple minutes. There were enough betrayals and reversals and such to keep it confusing most of the time as well.
There were certainly decent bits of it. I just feel like it could have been a lot better if they cut out about a quarter of it and just tightened it up a lot. But then, I've never been super into these Pirate movies. They are OK, but nothing I would normally go out of my way for. I most likely would have skipped it entirely if the others hadn't wanted to go. But once I knew they were going, I also didn't want to stay home and miss it. :-)