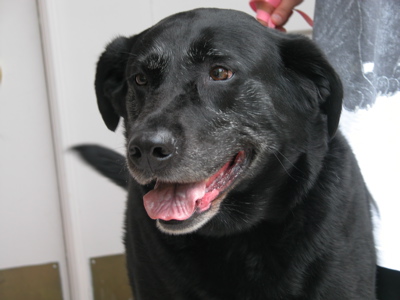 On Sunday when I was getting the mail, I noticed that about 15 feet away this black dog was wandering, and that he had no collar or tags. I called out to him, and he came to me wagging his tail and eager to be petted. He then followed me back to our front door when I told him too. Brandy got a leash on him and we sat on the porch with him for a bit hoping his owners would come by.
After about half an hour when nobody came by, we decided to let the dog lead us. We told him to take us "home" as Brandy and I walked with him. He took a right from our house. Out to the bigger street. Another right. Then after a bit onto a path through a little park, then to another street. Then quite a way down that street. Then a right for a ways. Then before long another right. We were now after taking a big long loop heading back to our own house.
Right when we turned a corner so we could see our house in the distance he started walking faster and faster. And right up to the front door of a house about six or seven houses over from ours to the LEFT.
I knocked on the door and his people answered and gladly took him in when I said "Is he yours?". He'd gotten out from the back yard and I don't think they had realized he was missing yet.
Of course, when we'd said "take us home" he COULD have just turned left and been there in seconds. But instead he took us for a nice walk first. But he was home.
Good. Cause I'm pretty sure I'm not up for two dogs. And I'm pretty sure it would have ended up that way if we hadn't found his home. :-)
I forgot to ask his name though.