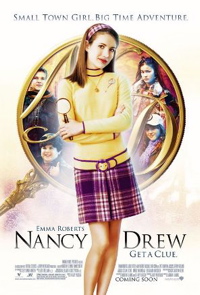 Early today the three of us went to see Nancy Drew. It was Amy's choice for a movie to celebrate her grades which had come in a few days earlier. She'd had a significant "dip" in her grades between 1st trimester and 2nd trimester of 6th grade. But for 3rd she had worked hard and brought the grades up considerably, even surpassing her 1st trimester grades. So we're back on the right trend again, as long as first trimester of 7th grade is even better.
Anyway, this Nancy Drew movie is obviously based on the Nancy Drew book series which started in 1930 with "The Secret of the Old Clock" up to the 175th book in the series Werewolf in a Winter Wonderland published in 2003. I must admit to not having read any of the books in this series, although of course Nancy is an iconic character who I've heard about since childhood.
Bottom line, I liked the movie. It was a lot of fun. It was set in present day, but with a Nancy Drew who dressed and behaved in stereotypical 1950's ways (um, but with a laptop and iPod) and drove a 1940's era car and was dealing with a mystery who's primary events took place in late 1970's / early 80's Hollywood but were styled as if they were 1930's Hollywood. I really enjoyed the juxtaposition of the decades.
There was no semblance of realism of course. The villains were appropriately stupid in Scooby Doo cartoon fashion. And there were plenty of hidden passages and flashlights and such. And of course an explosion and a car chase. None believable in the slightest, but they were not supposed to be.
The whole thing was just funny and cute. A nice little weekend popcorn movie for the family. Probably won't remember it too much a week from now, but not every movie needs to have a profound effect. Sometimes they can just be fun.
Of course, it was opening weekend and there were less than 10 people in the theater watching this movie. So chances are nobody else will remember this movie in a week either.