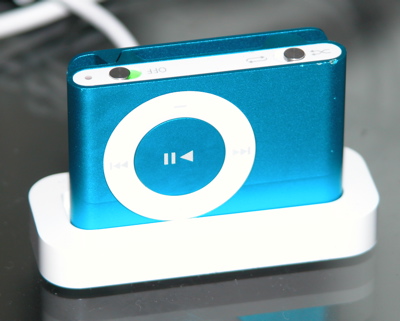 On Monday Amy gave me an iPod Shuffle for a father's day present. It says "#1 Dad You Are" on the back (intentionally Yoda style).
I'd been wanting one of these for a long time, but had been holding off cause I didn't really have a good reason for one. And yes, I'd been more wanting one of these than a full iPod, although I guess that would be nice in a different way. But I almost always listen in shuffle mode, and I don't tend to have much in terms of video content on iTunes, so this is perfect.
I need to have a little AppleScript run as an hourly cron to make sure that Podcasts get included in the shuffling though, because by default they are not, and Apple has no preference to change that.
How I listen almost all of the time these days, both on my computer and on the new shuffle is as follows.
I have a smart playlist containing the 10% of my music library which has been listened to the fewest number of times. I have another smart playlist of podcasts which have not yet been listened to. I have a third smart playlist which combines those two playlists.
When on the computer, I always Party Shuffle out of that third playlist.
And I autofill the new shuffle out of that same playlist.
Only (very minor) annoyances so far… I have to manually press the "Autofill" button to refresh the iPod shuffle instead of it doing it on its own as long as it is docked. Also, when you redock the shuffle after having listened to it all day, the "last played" date for all the songs you listened to is time stamped to when you sync, not to when the songs were played. I guess unlike full size iPods the shuffles do not have internal clocks, which kind of sucks. But I guess it isn't too bad.
Then finally, less than 30 hours after I got the thing, I had it plugged into my car with a cassette adapter, but still clipped to my belt. Of course when I got out of the car it went flying. And then I did the exact same thing again about 3 hours later. So the poor thing already has a bunch of dents and bruises. You can see several of the blemishes in the picture above. I was very upset about that. I like my toys all pristine and shiny, but I can never manage to keep them that way very long.
But I am still loving it. Using it in the car to and from work every day, and also at work at my desk occasionally. It is looking like I'm averaging listening to about 20-25 tracks a day off the shuffle.