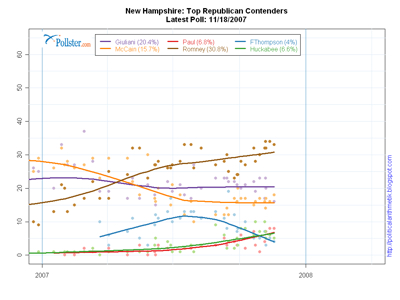 Not just a single poll, but the trend. Ron Paul has recently overtaken Mike Huckabee to be trending at 4th place in New Hampshire.
Well, OK, they are separated by a really tiny margin at the moment that undoubtedly is not significant. (6.8% vs 6.6% with pollster.com's method of figuring out a trend from the multiple polls.) The reality is that Paul and Huckabee have been neck and neck in New Hampshire for awhile and have been pretty much rising at the same pace. But hey, Paul in fourth place. Neat.
I guess wake me up again if he breaks 10% anywhere.