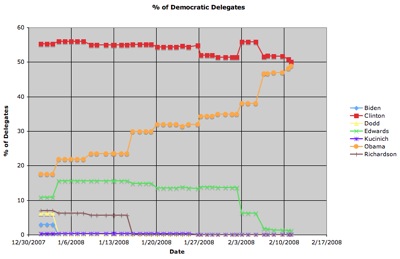 All I can say is wow. With the preliminary results rolled in from Maine and additional updates from Saturday's contests as those were finalized… we have 50.0% Clinton, 48.8% Obama, 1.1% Edwards.
Clinton is just BARELY over 50%. 50.022% or so actually.
If Obama does anywhere near as well in the Tuesday contests as he is expected to based on recent polls, he will almost definitely push Clinton below 50%. I think he will PROBABLY actually take the delegate lead as well. I mean the total delegate lead, including superdelegates. Obama *already* has the lead in pledged delegates.
Obama is building massive momentum here. Clinton is counting on being able to come back massively in Ohio and Texas on March 4th. But if she doesn't manage a win or two between now and then, and if she keeps not just losing, but losing by big margins… and she falls behind in delegates… whatever she is hoping for in Ohio and Texas may just fail to materialize…
Now, could she keep it close enough so it will "be decided" by the superdelegates? Yes. But that doesn't necessarily mean it will be decided in her favor.
She just can't lose everything in February and expect to come back after that. Guiliani tried that in January, and we can see how well that worked for him. She needs to pull out some strong showings in some of the next few states. And right now her odds aren't looking good.
My prediction has always been an Obama win. I'll stick by that. But I don't expect Clinton to stop fighting any time soon. There will still be some significant battles left to fight I think. And who knows, she may pull out a surprise somewhere.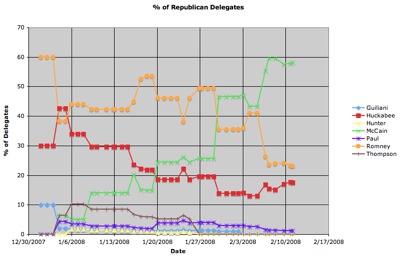 Oh yeah, and there were some minor adjustments in the Republican delegate totals too. McCain picked up a handful more.