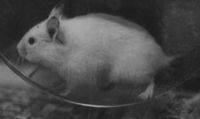 Big huge snowflakes falling from the sky. Some of the biggest I've ever seen. Somebody needs to let somebody know that it is March 27th, and it is too late for this stuff. Time to stop. K?
It is just supposed to be raining, not snowing, but there ya go.
The picture is my hamster Snowball. I had Snowball when I was a kid. We got Snowball at the petstore. A few days later she had a bunch of babies.