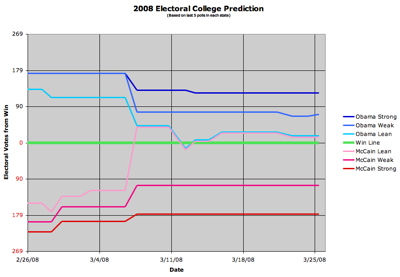 A new poll results in moving Nevada from "Weak Obama" to "Leans Obama" as Obama's lead there drops to less than 5%.
So at this point, assuming any of the "Leans" states could really go either way we could easily see any result between:
Obama best case: Obama 375 vs McCain 163
McCain best case: McCain 340 vs Obama 198
(Best case meaning that candidate wins ALL of the "leaning" states… and also wins DC where there are no polls yet… so the best cases are clearly unlikely cases, but they provide outer bounds.)
That is a huge range with all these less than 5% lead states in play. There are 15 states and 174 electoral votes in that category at the moment. That is a LOT.
I imagine that as we get closer to November some of those states will move solidly into one camp or the other. But there is certainly the possibility that we will get to November with a huge number of electoral votes in states that are essentially too close to call until the votes are actually counted.
And wouldn't that be fun.