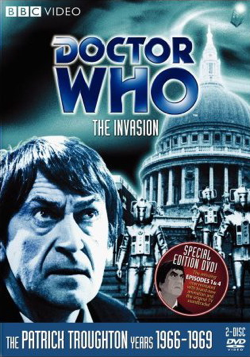 Time for another old Doctor Who. This time it was time for the second disk of The Invasion. We has watched the first disk back in March.
The second disk is much like the first. Slow and plodding, with not much happening, and those things happening at a glacial pace. There is never a significant sense of menace. And the ending is very anti-climactic.
I thought I'd heard some people point to this as a particularly good Second Doctor story, but I must admit I just don't get it if so. I've certainly seen others I like more. This one was just… long.
The first disk had the novelty of a few of the episodes being animated, because only the audio from the original episodes had survived, so they animated it to let you be able to watch a whole story. That was interesting, although it didn't help the pacing obviously.
The second disk had no animation in it, so it was just kind of there.
Oh well. Next!