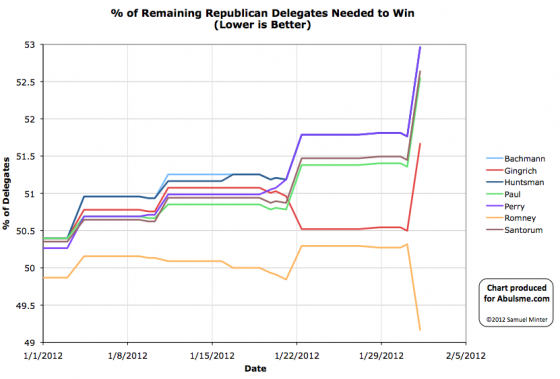 Chart from the Abulsme.com 2012 Republican Delegate Count Graphs page.
So Florida has played out exactly as it looked like it will for the last week or so. Gingrich's brief spike in the polls after South Carolina subsided rapidly, and Romney won Florida handily. As a winner take all state (absent any contesting of the rules changing that in the future) the margin doesn't matter though, Romney gets all 50 delegates from the state.
By our count this now gives Romney 82 delegates, or 65.1% of the delegates that have been determined so far. Gingrich is still in second, but way behind with 28 delegates, or 22.2% of the delegates.
From our preferred view above, you can see that this of course is very good for Romney, very bad for everybody else. He is now in a much better position than everybody else, and in the best position he has been in so far. He now only needs about 49.2% of the remaining delegates… compared to his record so far of 65.1% of the delegates. So he can actually do worse than he has been doing so far and still grab the nomination.
Every other candidate must significantly improve on their existing performances to catch up and win. For instance, Gingrich must win 51.7% of remaining delegates, which would be more than double his track record so far of 22.2%. Of course, winner take all states like Florida massively distort this sort of thing, but that is what we have with Florida, and this still shows the size of the mountain the other candidates would need to climb to get back into contention. Winning is not enough, they must start winning by very significant margins (not in popular vote, in delegates) in order to catch up. As we go on, this will get harder and harder.
Next up, the Nevada caucuses on Saturday… 28 delegates, proportional.