New polls added today. The ones that make a difference are new results from Dartmouth in New Hampshire. Specifically, two of our top five candidate pairs get status changes:
Clinton vs Paul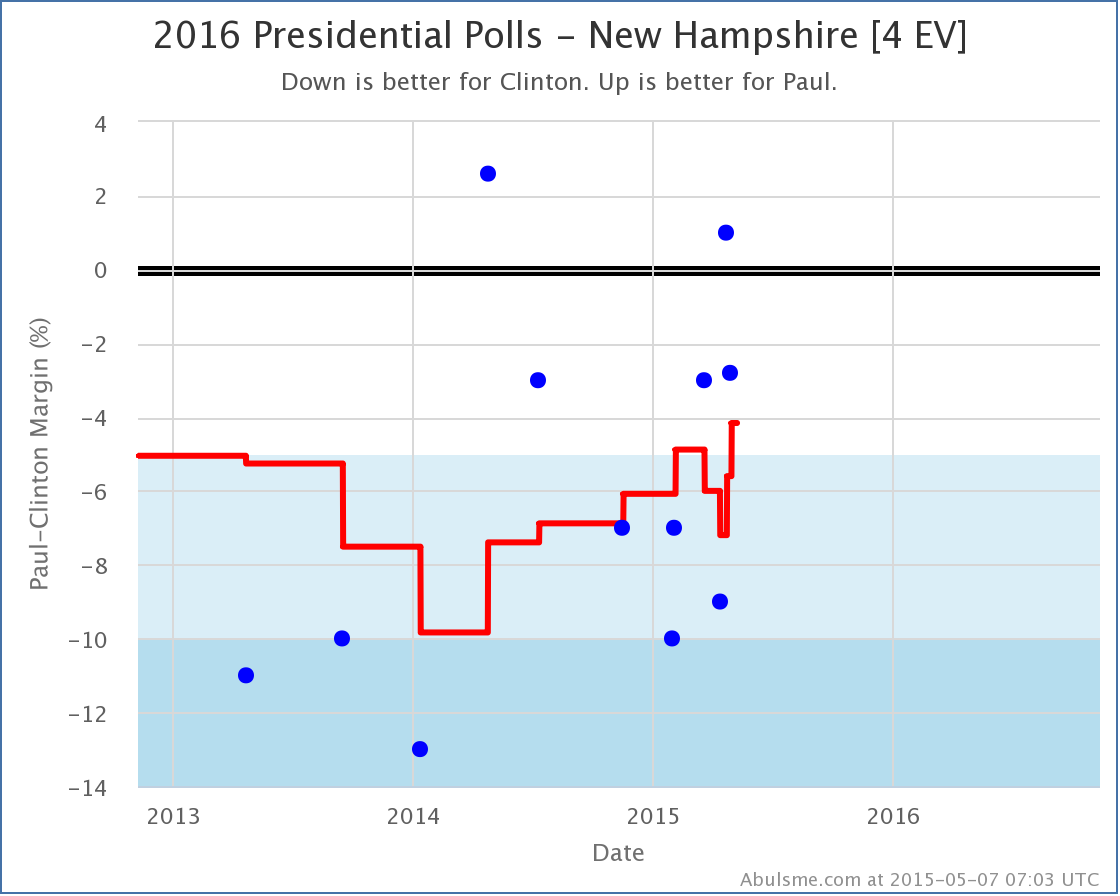 The latest polling once again moves New Hampshire into "Weak Clinton" territory. New Hampshire has been in and out of this category since the 2014 elections, but longer term trend here seems to be away from Clinton, so it is certainly possible New Hampshire will stay here for awhile, but it would also not be surprising if the state continues to bounce in and out of this category. For now, New Hampshire is back in play and improves Paul's "best case":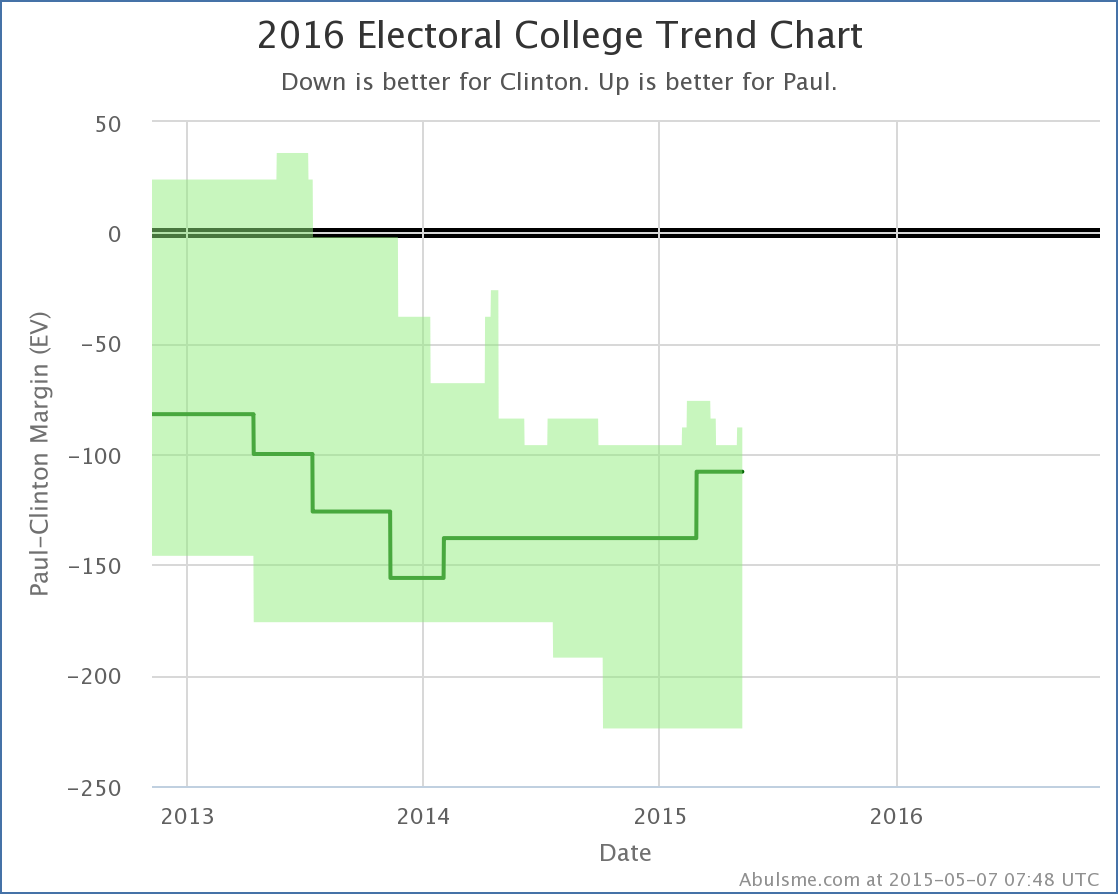 New Hampshire is a little state. It is the little bump in the top right of the "realistically possible" bubble above. Paul's best case is still a long way from winning. That is not not the case with Clinton vs Bush.
Clinton vs Bush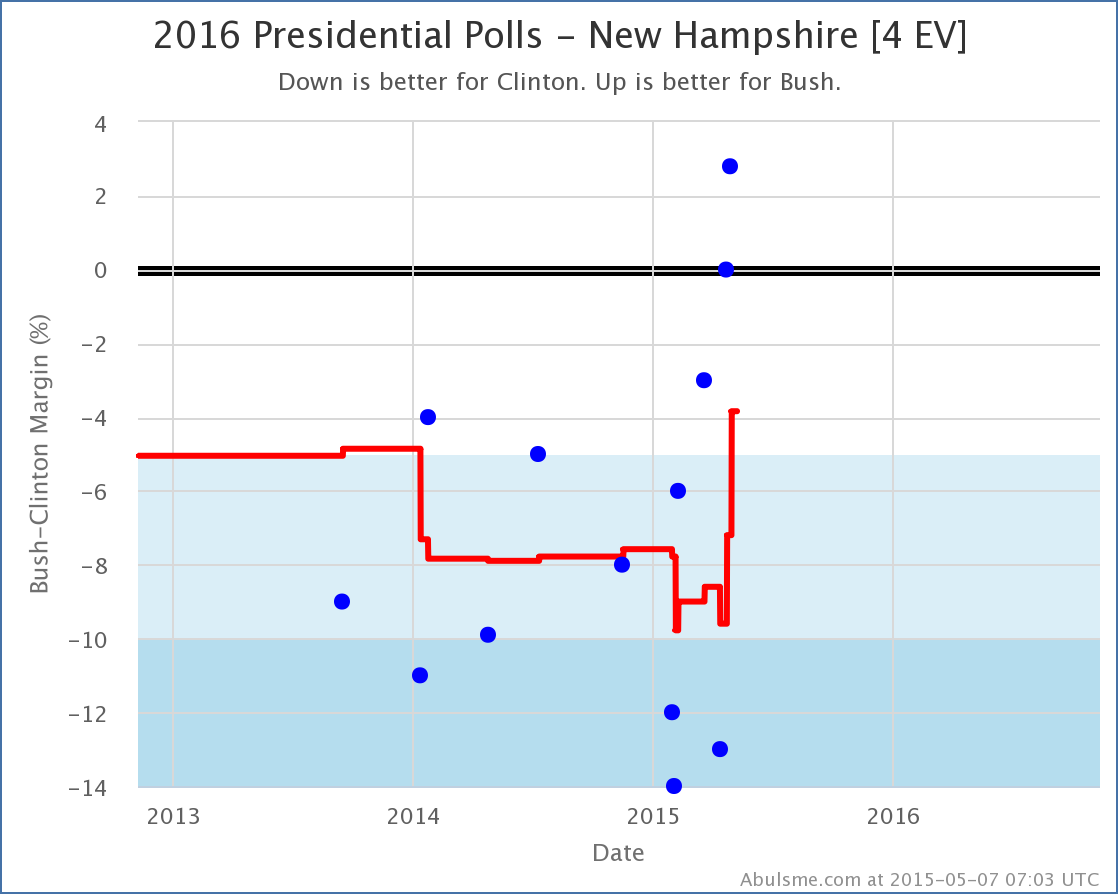 Bush's improvement has been much more recent and sudden than Paul's, so there is a greater chance this may just be a result of an outlier or two, and so it will be good to wait for confirmation from additional polls before thinking this is permanent, but for now, this is yet another state that has been moving Bushward…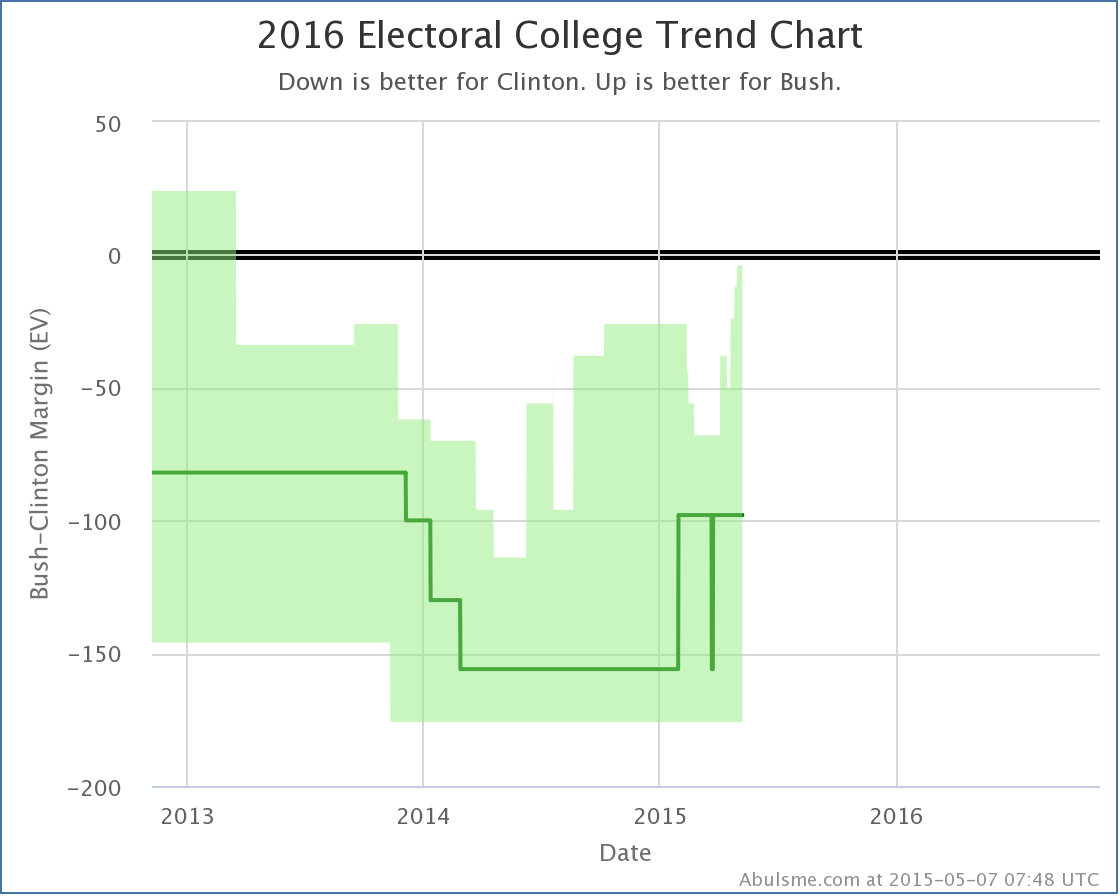 Look at that spike! At the beginning of April, Bush's best case was to lose to Clinton by 68 electoral votes. In the weeks since, Clintons lead in my poll average has declined to less than 5% in several states and now Bush's best case is to lose by only 4 electoral votes! Yes, yes, this is still a loss, and this is still only assuming Bush can flip all of the states where Clinton is ahead by less than 5%, but this is still a big move. Bush only has to move one more state from the current "Strong Clinton" category into the "Weak Clinton" category to make his best case actually be to WIN.
Given current polling, the best candidates to try to reduce Clinton's lead would be Minnesota (Clinton leads by 6.8%), Nevada (Clinton leads by 7.9%), Wisconsin (Clinton leads by 8.6%) or Ohio (Clinton leads by 9.2%). Making any one of those close would bring "Bush wins!" into the "possible bubble" for the first time since we've had any significant amount of 2016 polling.
Of course, after that, to really win, Bush needs to actually start flipping some more states to his side as opposed to just making them close.
But one thing at a time.
Note: This post is an update based on the data on my 2016 Electoral College Analysis Site. All of the charts and graphs seen here are from that site. Graphs, charts and raw data can be found there for the race nationally and in each state for every candidate combination that has been polled at the state level. In addition, comparisons of the best polled candidate combinations both nationally and each in each state are available. All charts above are clickable to go to the current version of the detail page the chart is from, which may contain more up to date information than the snapshots on this page, which were current as of the time of this post.