Yeah yeah, Super Tuesday. Yeah, yeah, all the other states coming right afterwards. But we have new general election polls!
Since my last update there have been new polls in Michigan, New Hampshire and Kansas. From all of this, two major candidate pairs had changes to their summary status on my site. And this time, that includes the frontrunners:
Clinton vs Trump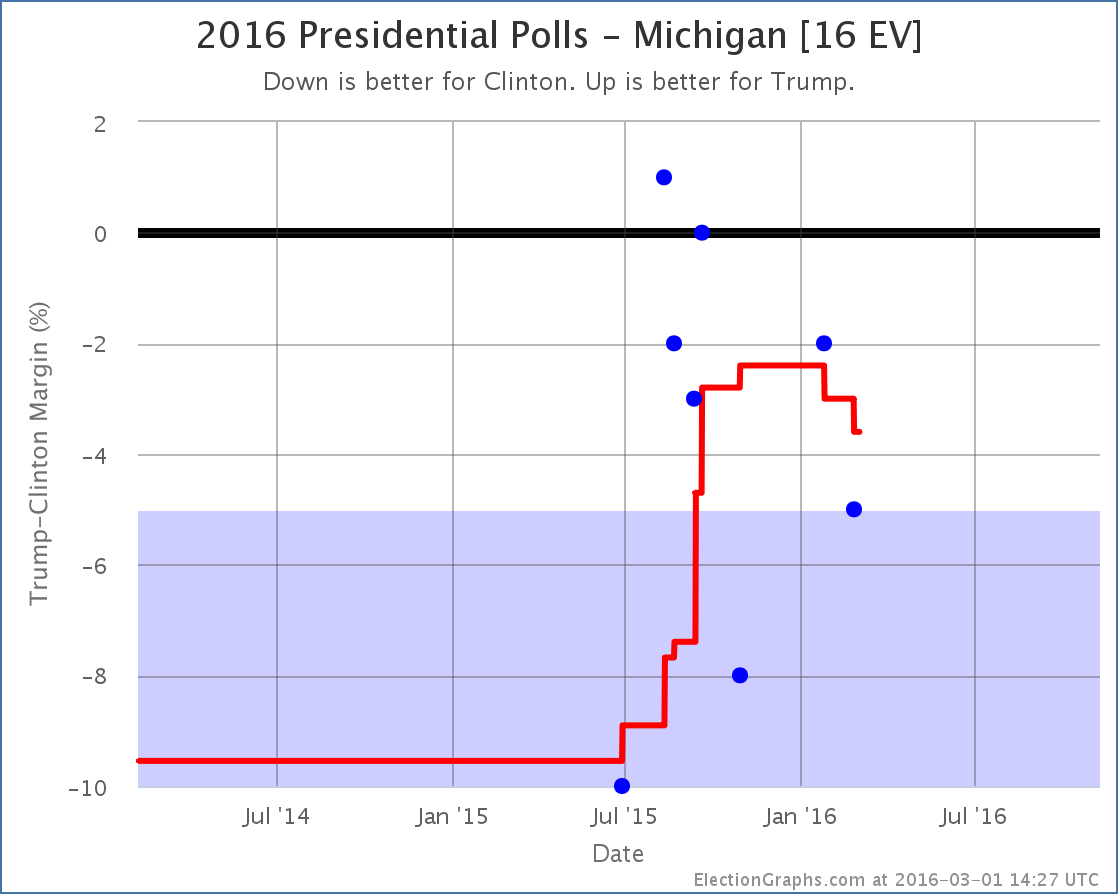 The categorization of Michigan did not change. "Weak Clinton" before, "Weak Clinton" now. But Michigan was the tipping point in Clinton vs Trump, so when Michigan moves, so does the tipping point: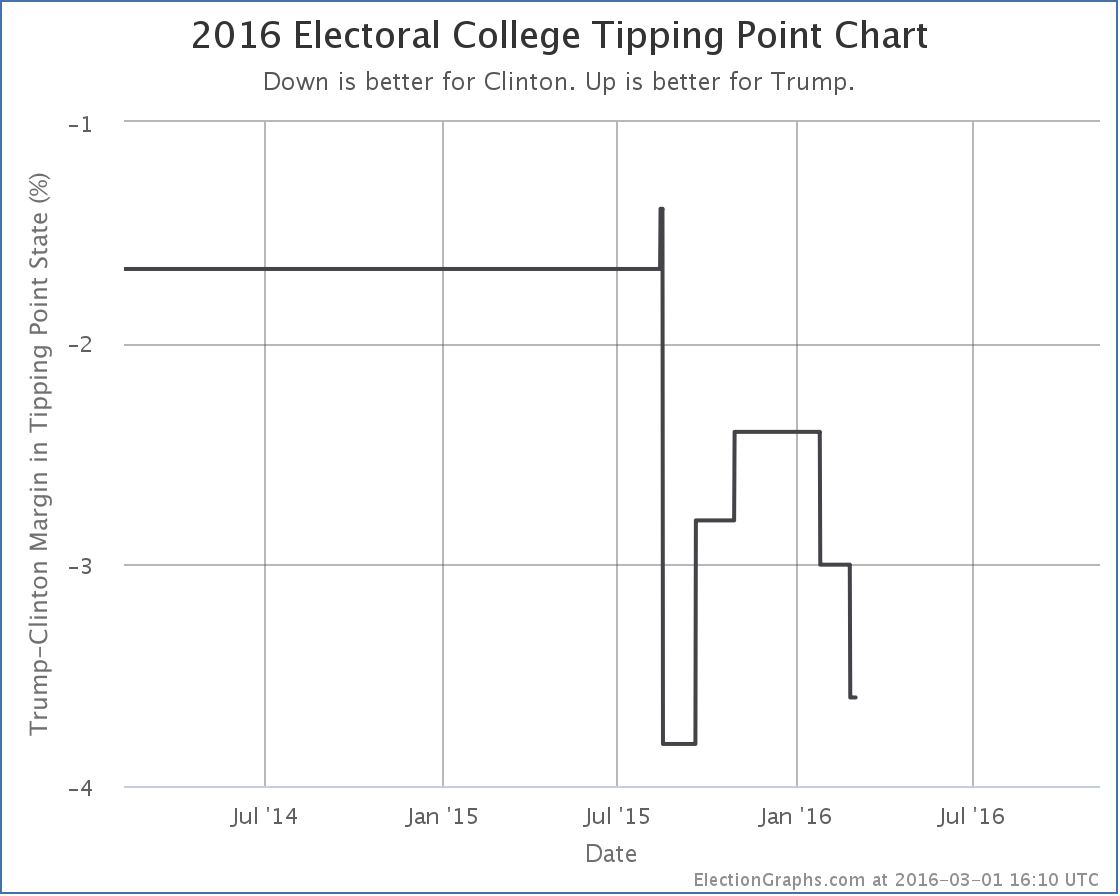 The tipping point moves from a 3.0% Clinton lead in Michigan to a 3.6% Clinton lead in Michigan. Either way, 3.6% is still a narrow lead. Only 1.3% of people changing their minds, or undecideds flipping the right way, would put Trump in the lead. The question is if we are now in a trend away from Trump in this metric, or if we are just bouncing around in a range as new polls jitter the averages. Too soon to tell. But once the primary races are both settled to the point where it is hard to deny the winners are the winners, we will start seeing an acceleration of general election polling, and we should start to see if there are really any trends here.
Clinton vs Rubio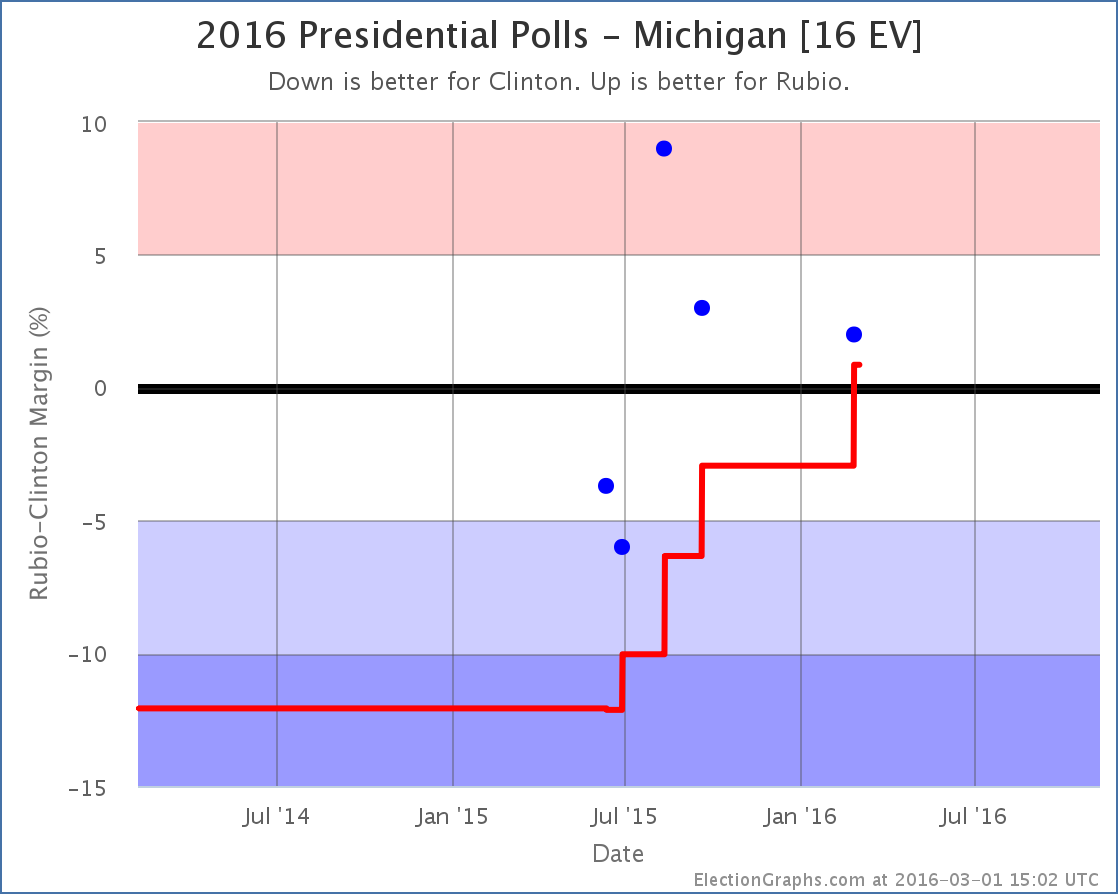 With the latest Michigan poll, Rubio leads in the poll average, which now shows a 0.9% Rubio lead. This moves Michigan from "Weak Clinton" to "Weak Rubio". It is a close state that could easily go for either candidate, but with this change we move Michigan's 16 electoral votes into Rubio's column for the "expected" case where each candidate wins every state they are ahead in.
The move is extra significant this time because it actually puts Rubio over the top to win the whole shebang: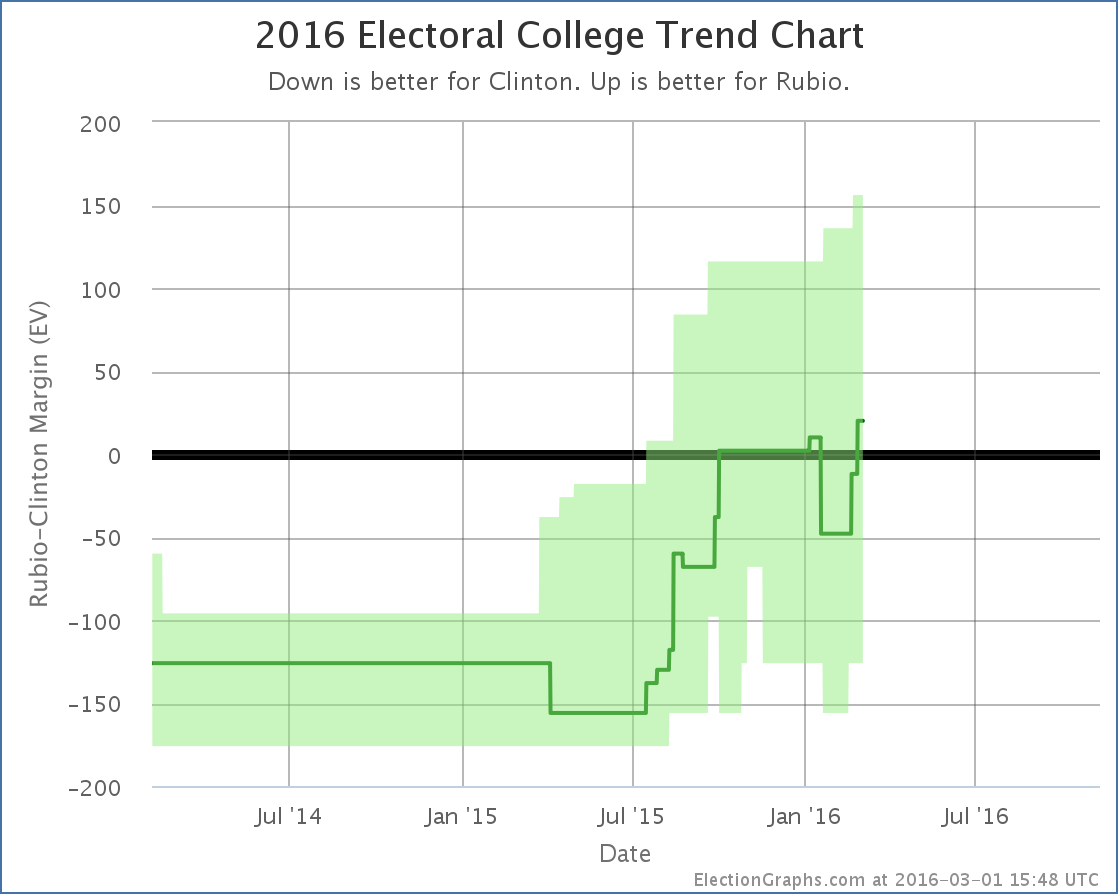 With this, the range of possible outcomes that seem reasonably possible is still everything from Clinton winning by 126 to Rubio winning by 156, but the expected result is now a Rubio win by 20 electoral votes.
This is also reflected in the tipping point: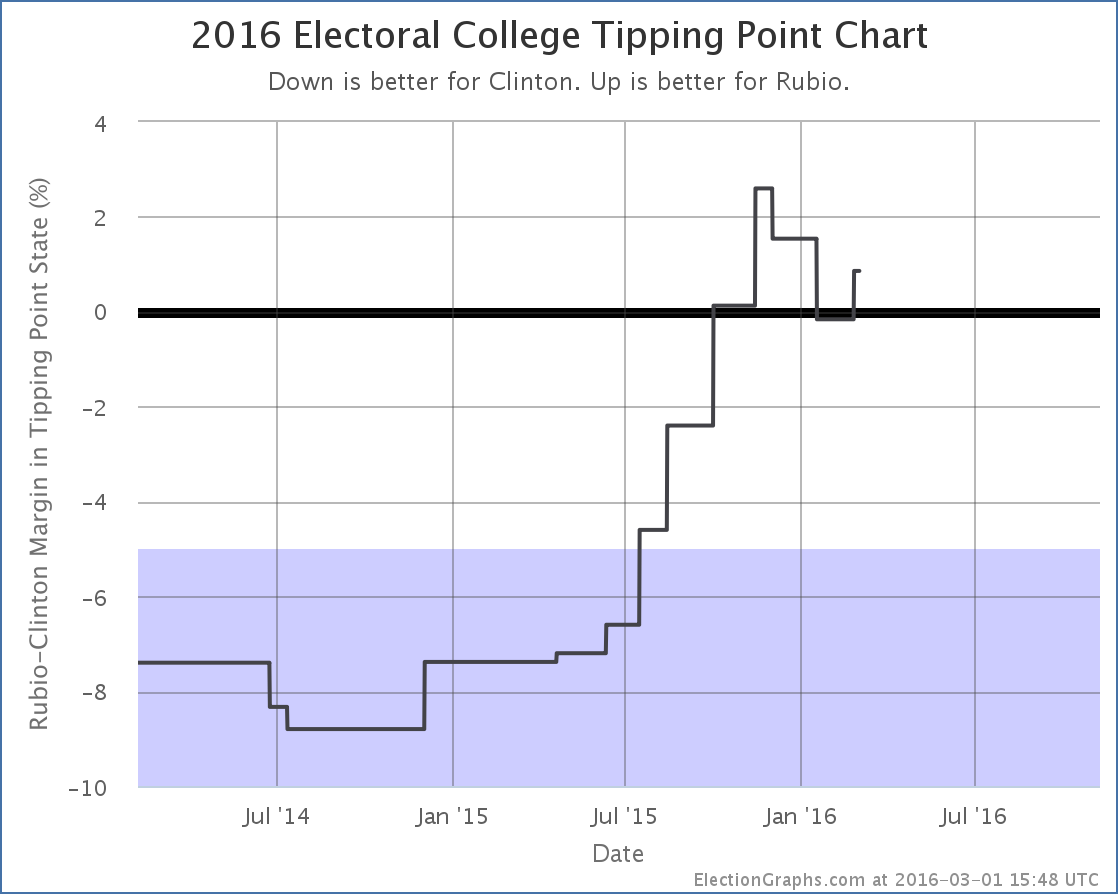 The tipping point moves from Florida, where Clinton led by 0.8%, to Michigan where Rubio is now ahead by 0.9%.
Clinton vs Rubio remains a very close race. But Rubio now has a small advantage.
Others
Clinton vs Kasich is neither a front-running pair, or in the top five best polled combinations, so I won't consider it fully here other than to note that the latest New Hampshire poll moved Kasich into the lead, changing his expected case from losing to Clinton by 46 electoral votes, to losing to Clinton by 38 electoral votes.
252.2 days until polls start to close on Election 2016.
Note: This post is an update based on the data on ElectionGraphs.com. Election Graphs tracks both a poll based estimate of the Electoral College and a numbers based look at the Delegate Races. All of the charts and graphs seen in this post are from that site. Additional graphs, charts and raw data can be found there. All charts above are clickable to go to the current version of the detail page the chart is from, which may contain more up to date information than the snapshots on this page, which were current as of the time of this post. Follow @ElectionGraphs on Twitter or like Election Graphs on Facebook to see announcements of updates or to join the conversation. For those interested in individual general election poll updates, follow @ElecCollPolls on Twitter for all the polls as they are added.