While we still have a live possibility of a contested convention, Donald Trump is still the Republican frontrunner and with the latest polls in Michigan, Trump weakens further against Clinton: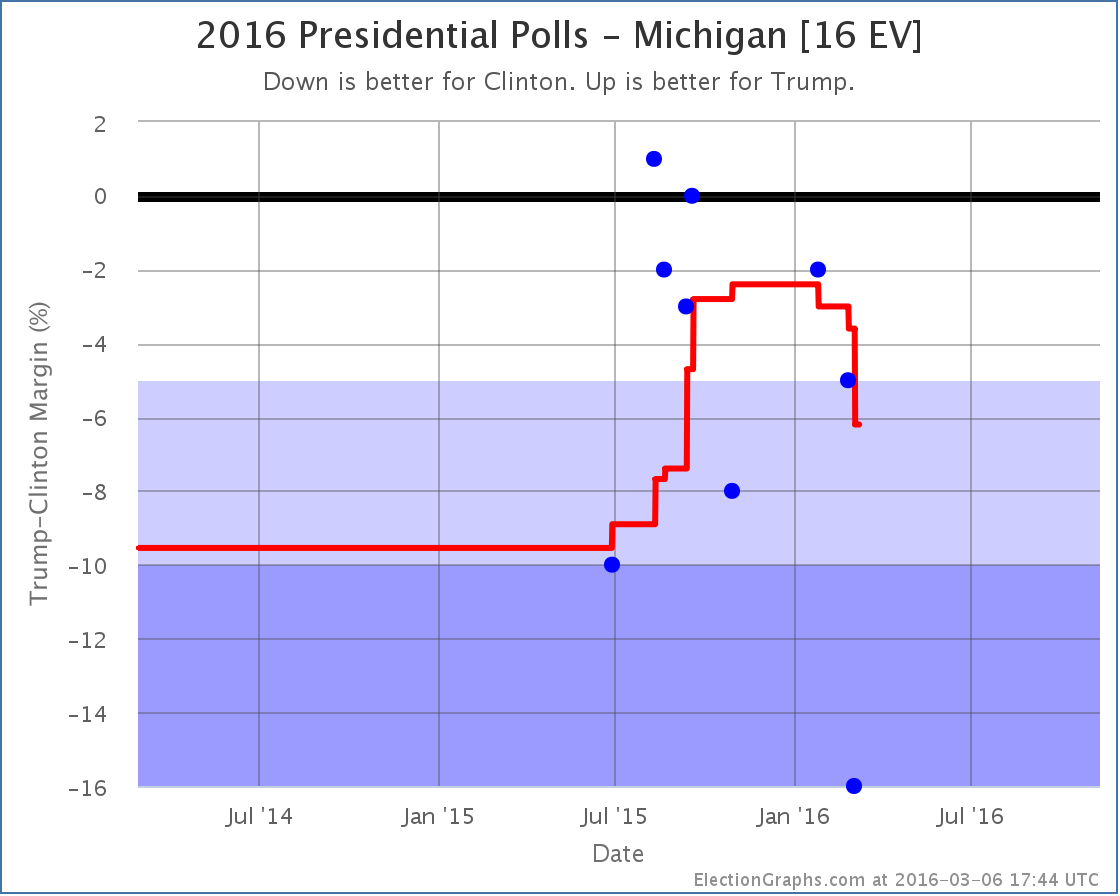 Those polls look like the long summer of Trump may be over, at least in Michigan. Trump was never leading in Michigan, but for awhile it seemed like he might make it close. The newest poll may be an outlier, no way to tell without more polling. But for now, Michigan seems like it is reverting to being a "Strong Clinton" state.
This takes Michigan out of the list of states that could easily go either way in a Clinton vs Trump general election and lower's Trump's best case: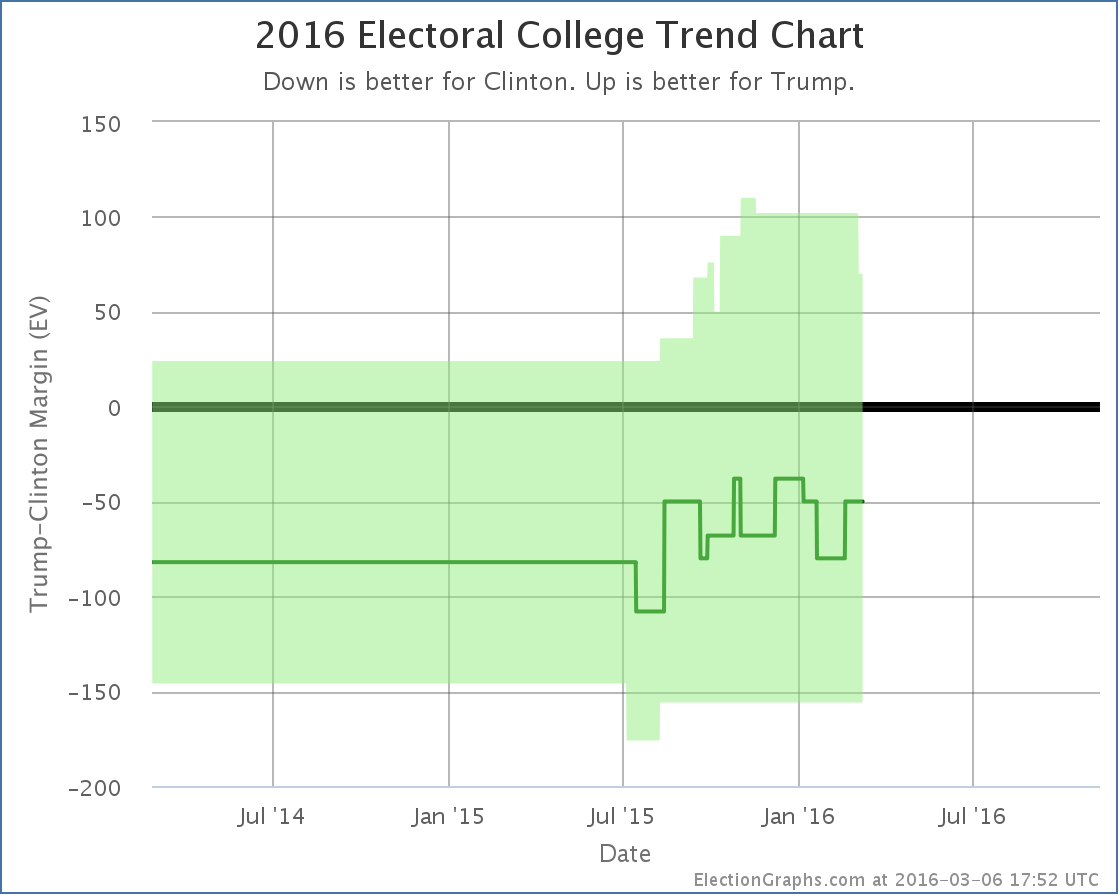 Trump's best case drops from winning by 102 electoral votes to only winning by 70. The "expected" case remains Clinton winning by 50 electoral votes.

Looking at the spectrum of states, the "tipping point" has also changed. It used to be Michigan where before the latest poll Clinton had led by 3.6%. It is now Nevada where Clinton leads by 3.9%. This is the worst the tipping point has been for Trump since the beginning of Clinton vs Trump polling: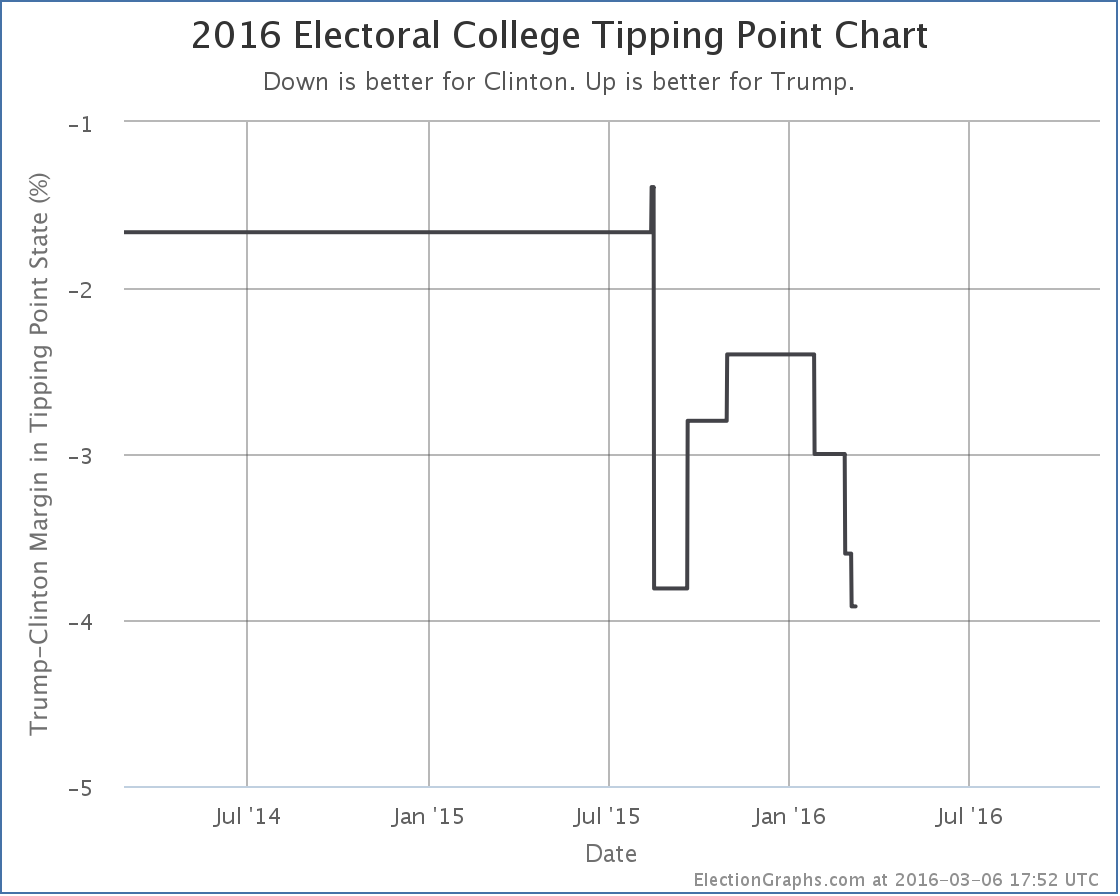 This trend is not one Trump should be happy about, but make no mistake… it is still a close race. A 3.9% lead can disappear in an instant. Just three states (Iowa, Ohio and Nevada) have to flip to make Trump the winner.
247.2 days until polls start to close. Stay tuned.
Note: This post is an update based on the data on ElectionGraphs.com. Election Graphs tracks both a poll based estimate of the Electoral College and a numbers based look at the Delegate Races. All of the charts and graphs seen in this post are from that site. Additional graphs, charts and raw data can be found there. All charts above are clickable to go to the current version of the detail page the chart is from, which may contain more up to date information than the snapshots on this page, which were current as of the time of this post. Follow @ElectionGraphs on Twitter or like Election Graphs on Facebook to see announcements of updates or to join the conversation. For those interested in individual general election poll updates, follow @ElecCollPolls on Twitter for all the polls as they are added.