Right before lunchtime today I got a very upset call from Brandy.
One of her two pleco fish, which she'd had for around six years, had died overnight.
She had spent a lot of time and effort and love on these two plecos. Gotten them when they were like an inch long. They had grown to over six inches long. They had survived when a disease wiped out all the other fish in her tank in Pennsylvania. They had survived a long harrowing trip from Pennsylvania to Florida in a cooler. They had survived many days without electricity for their water pumps and filters after the hurricanes, and were still thriving.
We're not sure exactly what happened. He had seemed fine. There had been no signs of problems, and all the other fish still seem fine. He might have gotten stuck behind a rock. But that rock hadn't moved for months, and there had never been the slightest problem before and they can get out of tight places. Chances are we will never know. In the end though, the reason doesn't matter, we lost a memeber of the family.
For those of you thinking "its just a fish"… Plecos have personalities and character and interact with each each other and are very charming creatures. They are just nice and sweet, and help take care of the tank by eating the algae that builds up naturally. There were many hours spent watching him do his thing. They are so cute.
He was a sweet pleco.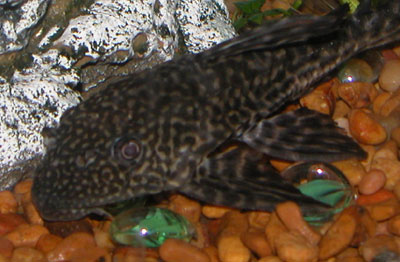 When I got the news from Brandy I rushed home earlier than I normally do for lunch, and we spent a couple hours mourning and comforting each other, and we buried the poor guy under a bush in the back yard. These guys have been with Brandy for years, and been through a lot with her. It is especially hard on her.
After they lived through everything in the last year and seemed to thrive and be happy, we were so sure they would live for years and years and years. I am so sorry Brandy.
It is a sad day today. And the other pleco is lonely.
Goodbye sweet pleco. We will miss you. You were loved.
Edit: Brandy says I got the wrong pleco. I am so sorry. I tried. But they do look alike. :-( Here is the best picture I had of the correct pleco. He didn't want to look at me…