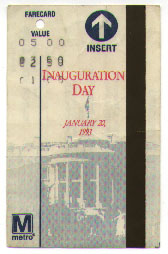 The picture is the metro ticket from Inauguration Day 1993. I have the metro tickets from inauguration days 1997 and 2001 as well, but they are in a box somewhere and I apperantly never scanned them. I hope I can find them as I unpack.
Anyway, this is the first Inauguration I have missed since I have been able to vote. And well, since I missed one I doubt I will try again in 4 years, or 8, or whatnot. That tradition is done. I am kind of sad about it. It was a fun thing to do for a news junkie. Doesn't matter who won or lost or anything like that, it was just good to be a witness, in person, to those historical moments.
Having said that, I of course had a better and much more comfortable view and could hear better sitting in my family room watching it projected on the wall than I ever would have had at the event itself. I watched on C-Span so as to get just the events themselves, not people endlessly talking and commenting on them. It was fun to watch the people come out and see how many I could recognize and to watch the interactions between them.
Thoughts:
Renquist managed, but definately did not look good. Did anyone else hear the mechanical rasping as he spoke? Kudos to him to coming out and doing it anyway. I know he is trying to finish out at least this Supreme Court term, but looks like W is definatly going to get to appoint a Chief Justice.
Bush's speech did its thing I guess, but was not really memorable in any way. It has only been about an hour, and I already forgot everything he said.
Anyway, I can't think of many things I think W did right in his first term, but I wish him luck on the second. Regardless of if he was my choice or if I agree with him, lots of things are in his hands for the next four years. May he make better choices than he did last time.
Oh well. I have to get back to work now. I had more fun medical related tests to follow up from those kidney stones this morning, and I extended that by a little to watch the inauguration, but I've been gone long enough.