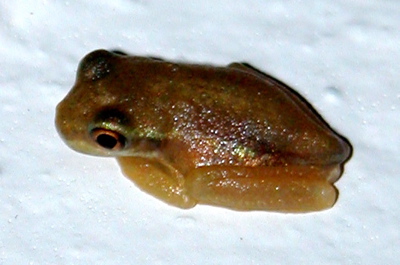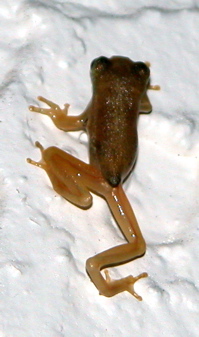 After I first saw the tadpole with legs, I would check in occationally. The next night, he was no longer in the tank. He was climbing up the walls next to the tank. The tail was gone. He was all frog. I called him Legolas. Leg. Get it? Ha!
Anyway, he was a tiny cute little thing. About the size of a dime. He would turn his head and look at you he would climb around. If you got too close, he would hop away…
For a couple days, he hung around the general vicinity of the tanks, and would occationally get back in the tanks. After that, I couldn't find him any more. He hopped away somewhere, now a free frog, no longer needing to be confined to the tanks in which he was a tadpole.
Legolas, out in the real world. Good luck Legolas, against all the things out there that can eat or otherwise hurt frogs the size of a dime.
Meanwhile, at least one other tadpole is growing legs. It so far hasn't climbed out of the water, but it will soon, I can tell. Last I looked, its back feet were ready, but the arms still hadn't seperated. But they were close. I expect it to probably start crawling out while I am away on my trip.
There may be more. But those are the ones I have seen for sure. The rest are still very much tadpoles, swimming around like crazy, but no legs yet. I'll be keeping watch!