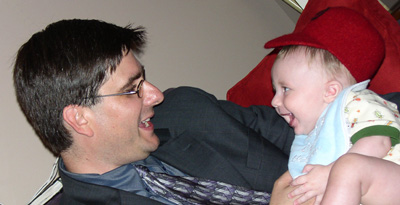 As I mentioned in the last post, I unexpectedly was stuck at Dulles airport. It was getting kind of late, but I figured I'd call Rebecca and Chris anyway. I was in the general DC area, and of course my dad is also there, and my friend Al, but both are further away from Dulles, and as I mentioned, it was late. Rebecca and Chris have been known to stay up late and live relatively close to Dulles. Besides, I hadn't met Gideon yet. So, a call was made.
Last time I was stuck at Dulles and I called them, they weren't available. Out of town or something. This time, thery were home, and Chris came to get me. They offered a place to stay for the night, but between having to get up at like 5 AM to be back at the airport in time, and my allergies to their cat, I figured a hotel was the best bet.
But I did get to spend a couple hours with them. As Rebecca already posted yesterday, I did indeed meet Gideon during her impromptu WRCT Day. Gideon was great. Big head and all. He sat with me very nicely, played with my tie, and was generally a happy little fellow. Apperantly he threw up on Al when they first met. I did not get that honor. But I think I can live with that.
Also got to catch up a bit with both Rebecca and Chris. The last time I'd seen them in person was way back at my House Cooling Party well over a year ago, and certainly well before Gideon. So it was very good to visit, even if it was just a short chance visit.
Sorry I didn't get to see all the other DC folks. I'll need to actually SCHEDULE a DC trip sometime, not just get stuck at Dulles for a few extra hours.
And of course, you all COULD just come to Florida. :-)