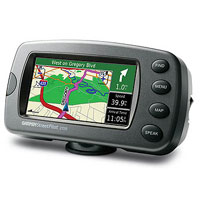 Once again, my desires for a new GPS to replace my old one with the big yellow spot in the center of the screen rises up. Garmn released a bunch of new car GPS units a few days ago. At all ranges of capability and price. The top of the line is this one:
The StreetPilot 2720 is a premium GPS automotive navigator that offers text-to-speech and traffic interface capabilities.

In addition to the turn-by-turn voice prompted navigation available in earlier StreetPilot models, the 2720's text-to-speech functionality allows the unit to audibly announce the name of upcoming streets and POIs, letting drivers keep their eyes on the road while navigating through busy traffic and tricky roadways.

For drivers in congested metropolitan areas, Garmin is offering the GTM 10, an optional FM RDS-TMC traffic receiver that receives digital information (where available) on traffic, road construction, and weather-related tie-ups. The GTM10 receives data from selected FM broadcast stations in select cities throughout the United States and Europe. This optional feature lets drivers see congested areas via a color-coded map. When connected to the GTM 10, the StreetPilot 2720 uses this data to automatically calculate and suggest alterntive routes based on the traffic information.

The StreetPilot 2720 also boasts a new WQVGA, color, automotive-grade, sunlight-readable, touchscreen display that automatically adjusts the unit's backlight for optimum viewing in any amount of light. Drivers can view the map in a three-dimensional perspective, or a top-down track-up or north-up view.

The StreetPilot 2720 comes preprogrammed with City Navigator™ North America v7 NT maps—containing detailed road maps throughout the entire United States, Canada, and Puerto Rico. This map database features nearly six million points of interest—including hotels, restaurants, gas stations, ATMs, and attractions.

Garmin has also added the ability for customers to augment the pre-loaded maps with custom POI's from industry-standard CSV files, such as school zones and safety cameras. In addition, a proximity-alert feature is included to optionally warn the driver of upcoming custom POI's.

In addition to point-to-point navigation, the StreetPilot 2720 can calculate the most efficient route between multiple destinations—a real time-saver for realtors, sales forces, and errand-runners. Drivers can also tell the unit to avoid specific areas or road segments when calculating a route.
(via GPSInformation.org)
Of course, my lust is quickly quenched by this part: "Suggested Retail Price: $1184.60". Oops. Not going to be in the budget any time soon. Too many other things WAY ahead of it on the list. Sigh! But someday my pretty! Someday!