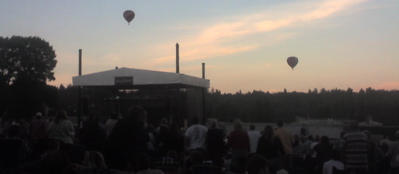 Earlier today we went to a Moody Blues concert. This is becoming an annual tradition in the Minter/Donaghy/Roney household. This time it was outdoors at a winery. Some hot air balloons floated overhead during the concert. I think I liked them a bit better in the enclosed sort of venues from previous years. But it was still fun. Amy brought one of her friends from school as well, and a good time was had by all.
Especially at the end. Amy and her friend had gone to the designated "dancing area" near the stage for the last few songs of the concert. Then when the band came out and got on their bus, the kids happened to be right at the closest spot you were allowed to be as the bus turned and started to drive away. Nobody else seemed to be paying any attention at all. But Amy and her friend started waving frantically at the people in the bus. John Lodge saw them, looked straight at them and started waving back at them. Then suddenly other people around the area noticed that the waving was going on and started waving too.
But the girls (and Brandy) were very excited that they were waved at, and that they had been the only ones waving at first, so he was waving at THEM. :-)
Anyway, it was a fun time.